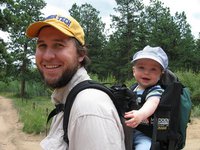 I have strong feelings about bumper stickers. Part of this comes from growing up in the South where people take college football a little too seriously. I had a paranoid notion that if I put a Georgia Tech sticker on my car, some Georgia Bulldog fan might rear-end me out of pure spite. I never go too long without seeing one that sticks with me – "Midwives, they help people out" or "Stop mining and drilling, let the idiots sit in the cold dark" or "The Labor Movement, the people who brought you the weekend" or "Eat More Kale." But I leave my bumpers blank, because I feel that if you are willing to tattoo your car, then you have to be willing to have a conversation with anybody who asks why your vehicle has such strong opinions.
I got an e-mail offer this week for a bumper sticker that I really liked – "No Farms, No Food." Simple, poignant, memorable. I knew nothing of the American Farmland Trust before I saw that slogan, but it certainly piqued my interest. The mission of the American Farmland Trust is "protecting farmland, promoting sound farming practices, and keeping farmers on the land." (http://www.farmland.org/about/mission/default.asp) The family farm is probably more American than baseball or apple pie, and there are ecological, cultural, economic, and ethical reasons to promote small, local farms. Maintaining diverse and localized food production centers helps hedge against drought and pestilence and diffuse understanding of farming practices makes it more likely that kids grow up knowing that food comes from farms, not grocery stores.
While community supported agricultural cooperatives are becoming increasingly mainstream in this country, a different pattern emerges globally. According to recent research by Jesse H. Ausubel, Iddo K. Wernick, and Paul E. Waggoner, despite increasing population and despite richer lifestyles, the world may be nearing "peak farmland." "Expecting that more and richer people will demand more from the land, cultivating wider fields, logging more forests, and pressing Nature, comes naturally. The past half-century of disciplined and dematerializing demand and more intense and efficient land use encourage a rational hope that humanity's pressure will not overwhelm Nature." (http://phe.rockefeller.edu/docs/PDR.SUPP%20Final%20Paper.pdf) But how can this be; how can our increased appetites be met with fewer resources? In a word: innovation. In the last 150 years, yields have simply exploded. Using modern practices, it takes many fewer acres today to produce the same amount of output.
The case study of India points out how stark the development has been. "The years between 1960 and 2010 saw more babies, more affluence, and better nutrition. India's population rose over two and a half times, while national income rose 15 times. By 2010, the average Indian ate a sixth more calories than in 1960. While a majority of Indians still lived in the countryside, many moved to the cities, where they depended less on forest resources (Chandramouli 2011; Ministry of Environment and Forests, Government of India 2009). The 15 MHa added to Indian forests from the 1960s to 2000 exceeds the size of the state of Iowa in the US. The reversal of deforestation hints at an associated peak in farmed land." (http://phe.rockefeller.edu/docs/PDR.SUPP%20Final%20Paper.pdf)
A certain tension exists between the desire to widen the reach of agriculture and the desire to minimize the farm footprint and allow land to revert to its natural state. The Farmland Trust folks believe the bottom line is people. Farms are special places where humans turn effort into sustenance. Some environmentalists make the planet the principal concern. For them, more natural habitat supporting more biodiversity and/or more forests sinking more carbon are reason enough to pursue hyper-efficient food production.
Even a hint of a planet-above-people ethic is enough to turn many away from environmentalist causes. But greens are starting to learn this. In the coming months and years, expect increasingly savvy and targeted campaigns. As an example, recent research shows that conservatives' viewpoints can sometimes be changed when appeals are made to preserving the "'purity' and 'sanctity' of Earth and our bodies." (http://newscenter.berkeley.edu/2012/12/10/conservatives-environment/) Where numbers and arguments fail to change minds, pictures of people drinking dirty water sometimes succeed.
So maybe that's my bumper sticker – "Let's make sure everybody on earth has clean, abundant, and proximate water, then figure the rest out later. Got any good ideas?" A little wordy, yes, but it might lead to some great conversations.
What's your bumper sticker (real or imagined)? Let us know in the comments.
***
Travis holds a Ph.D. in public policy from the Lyndon B. Johson School of Public Affairs, University of Texas, Austin, Texas, USA. He resides in Golden, Colorado, USA.