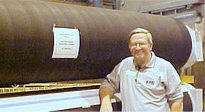 Week of 28 Jan 08
Most of my adult life, I have heard the phrase, "Perception is reality." This is often a cautionary warning as to how others might perceive what one is doing, or how they look and so forth. I want to talk today about when perception is not reality and how this might affect our actions.

As my contemporaries and I have gotten older, I have noticed a peculiar set of attitudes: we have become our parents. We often think the younger generations are daft, don't know what they are doing and so forth. More interestingly, we think we are the first to discover this. This is not so. Our parents felt exactly the same way about the younger generation when we were the younger generation. They wept for the future--how could they possibly leave the world in our incompetent hands? Of course, that was not their choice, time marches on, and responsibility left their hands, however unwillingly they relinquished it, and fell into ours, no matter how ill prepared we were for it. This process repeats itself again and again.

Yet, I find my contemporaries and myself marveling as if we have discovered something new--that it is a surprise that those younger than us are inexperienced or that the youth want to change the world now--traditions and protocol be damned. Have we forgotten in our youth when it was said, "Never trust anyone over 30?" Our parents must have alternately chuckled and shivered over that one. These are misperceptions caused by time and our place in it.

Physical location can cause misperceptions, too. We tend to view the world from where we live. Where we live is a tiny place on the globe of which few are aware, but we don't see it that way. Modern communications, especially television and the Internet are helping us gain a broader perspective, but we still have a tendency to see the world for our little vantage point. And this vantage point may be distorted or largely incorrect.

Business is another area where perception may not be reality. If you become too engrossed in a single facility or a single niche in the world of business, you may think the world revolves around that point. I once made a career move, going from an operation where two or three hundred people reported to me to an office of eight. I was shocked at how disorganized and mismanaged an office of eight could be. Both facilities thought they were key to the daily revolutions of the earth and the changing of the seasons. They were not, for today neither one of them any longer exists.

Most high profile people, either in business, politics or entertainment that get into trouble arrive at such a position due to misperceptions about themselves or others around them. Just look at the notorious cases of the last few years. These people had other problems, but a big share of responsibility for their downfall was their perception of themselves and others.

The truth is, a vast majority of the world's population has never heard of the place you live nor knows what you do. You may live in a large and recognizable place, such as Manhattan or London or Beijing, but there is a level at some point in even these places where only Google Maps can find you. The rest of the world has not given you any thought.

So what is the point? Be careful of your own feelings of importance, for, unfortunately, they do not travel well over long distances, sometimes even over moderate distances. Also be careful of your views and awareness of the actions of others--they may be more important to you than you realize. In fact, the most startlingly are those you have not even considered existing who suddenly show up to change your life (such as a tax auditor who last week you did not know was even alive and is suddenly your most familiar acquaintance).

Finally, be aware that prejudice is a function of distance. My observation is the closer we are to someone else, the less prejudiced we become. Prejudice towards other people, regardless of the reason, can only be successfully carried out at a distance. I am sure if you and any other individual on the face of the earth found yourselves equally equipped and stranded on a deserted island, you would be best pals within a week.

When it comes to safety, perceptions play a key role. How many people, interviewed after an accident, start with, "I thought…" Such perceptions can be deadly.

Be safe and we will talk next week.