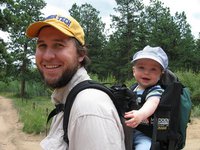 I had a conversation this week with a friend that reinforces what I'll call "energy ignorance." To protect the innocent, let's call my friend Joe. Joe is a bright guy. He aced Calculus in college, he speaks a foreign language fluently, he reads widely, he builds stuff, he was a chess whiz when he was a kid and still plays a mean game. Joe was heartened by the outcome of the presidential election. As we were discussing the results, Joe said, "I just hope that in his second term, President Obama will be a little more bold."
"How so?" I asked.
"Well, with climate change, for instance, I hope he makes it clear that it's the major issue of our day and that we have to do something about it right now."
I generally agree with Joe's sentiment, but I like play devil's advocate, so I pressed him a little bit. "What do you propose the president say? It isn't like there is a cheap technological fix to energy policy. Most people I know who are serious about a low-carbon future think that nuclear is a big part of the energy mix. If Obama proposed a major expansion of nuclear energy in this country, he'd be pilloried by the Greenpeace-types on the left and fiscal conservatives on the right who wouldn't support the subsidies necessary to get new plants up and running."
Joe bristled at my suggestion. "I'm serious about a low-carbon future," he said, "and I'm not pro-nuclear."
I replied, "The sun doesn't shine at night and the wind doesn't always blow, so you have to have some base-load capacity to cover the gaps."
Here's where the conversation really took a turn.
Joe rebutted, "We can expand our wind and solar capacities and store that electricity for when we need it."
"But you can't store electricity," I retorted, "It has to be produced and used virtually simultaneously."
"Really? I thought that if you had solar panels on your house you generated all the power you needed," Joe mused.
"You can take care of the net of your household energy needs, but when you aren't producing energy at night, coal or natural gas probably turn your lights on," I said.

Joe concluded, "Well, I don't know what the answer is, but it's not nuclear. Nuclear energy is just too risky."
I left this conversation surprised by how uninformed my friend is about the challenges involved in moving to low-carbon economy. Of course we can store limited amounts of energy in batteries, and demonstration projects are exploring ways to efficiently store heat which can be turned into energy on demand, but the fact remains that houses with solar arrays are not, generally, self-sufficient. We could have a grid that was more heavily tilted towards solar and wind, but we would have to link the generation to the end users across vast distances. Finding rural landowners who are willing to put up windmills on their property is one challenge, siting the massive lines to bring the power to population centers is quite another.
To be clear, the challenges involved in moving towards a low-carbon future are not insurmountable for a country as rich and talented as the United States. If you believe, as I do, that the path we are on will cause immense human and ecological suffering, then it is our moral duty to stop using our shared atmosphere as a dumping ground. But to expect our leaders to lay out clear and easy solutions to these challenges is naïve, because there are not clear and easy solutions. Creating new energy innovation, expanding conservation, and rapidly deploying new technology is our work for the 21st century. I hope we take on this work with relish, and I hope liberals and conservatives, libertarians and greens will all bring their best ideas and their best intentions to the negotiating table.
---
Energy ignorance is just one form of industrial ignorance. As Jim points out, images of "dirty paper mills" usually show the emission of water vapor, hardly the most noxious of effluents. As you gather with family and friends this holiday season and the discussion turns to your work, begin with the assumption that the person you are talking with has very little understanding of where pulp and paper come from, how much cleaner and more sustainable the industry is than it was in the past, and how important cellulosic products will be into the future. The smarter and more informed we are, collectively, the better prepared we will be to meet society's challenges.
Happy Thanksgiving!
***
Travis holds a Ph.D. in public policy from the Lyndon B. Johson School of Public Affairs, University of Texas, Austin, Texas, USA. He resides in Golden, Colorado, USA.