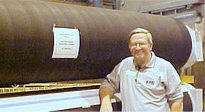 Week of 21 Jan 08
With talk of recession in the air, in the United States and elsewhere, it is predictable, and in some cases already manifest, that capital spending will be shrunk. In my thirty plus years in the business, this has nearly always been true in recessionary times. The logic goes that bad times are coming, we must rein in our spending. After all, that is what our competitors are doing.

Although such actions may be conservative and very, very safe, they are not the way to get ahead of one's competitors.

The pulp and paper industry is well known for following a "lemmings to the sea" collective approach to decision making. Its actions could also be characterized by the swimming of a school of fish or the flight of a flock of birds: all headed the same way at the same time with no discernable leader.

This becomes particularly true in recessionary times and prevents individual companies from breaking from its pack of peers. To do something else than what one's peers are doing, though, requires fortitude and an firm understanding of the future of one's markets. Seldom do companies show such acumen.

But what if they did? Recessionary times are the best times to invest in assets. All the components of asset investment--engineers, equipment manufacturers, other suppliers, job pool of potential high quality employees and so forth--are readily available at economical prices. If one believes in the future of their markets and their ability to capture market share, there is no better time to invest. Additionally, if there timing is close to correct, their new assets will come on line just about the time the markets recover and start moving upward, not late in a cycle when the markets are moving downwards.

I have seen private companies make such moves, for they have the independence to do so. I have, in my career, seen one instance of a public company with such timing. However, in the public company's case they got there accidentally—they had fooled around so long approving a project conceived at the peak of the market that when they finally got around to doing it they hit the trough with the capital expenditure and subsequently came on line with increased capacity in a rising market. In their case, serendipitously, "paralysis by analysis" worked in their favor.

The economics of purchasing capital goods in a recession are so overwhelmingly positive that it is surprising in some ways that boards of directors can not see this and act on it. Just like in your own business, capital goods manufacturers want to keep their shops full of work. Hence, in down times, they will sell to you at near cash costs if necessary in order to keep their shops busy and avoid laying off their skilled employees. You will also get better schedules and more attention paid to your order by the top executives of your suppliers. The same is true of construction costs. In a time when construction is suffering, you can get more skilled craftspeople, better schedules and better prices than any time in the future. All of these matters can build a real long term advantage into one's capital cost structure--I'll hazard as much as a 25% advantage compared to capital investments made in the next up cycle.

So, if you have the fortitude, look at making capital investments soon. It just may pay off in a big way for your company in the next market peak.

These are also excellent times to invest in extra safety training and audits. Professionals that provide these services may be a bit hungry. Your own operating schedules may make it a good time to take some extra time away from production to polish up safety awareness. Be safe and we will talk next week.

Be safe and we will talk next week.