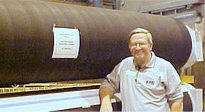 Week of 14 Jan 08
It is now becoming very obvious that there are two long term trends that will affect the pulp and paper industry significantly in the years to come. Since we are a well-interconnected, world-wide industry, they will affect you.

First are the rising standards of living in third world countries. This is old news, but I don't think the industry has yet comprehended what this will mean for us. Despite the per capita decline in the use of some grades of communications papers in developed countries, developing countries have not yet reached what might be called the minimum sustainable consumption levels. These include such mundane uses as cash register receipts, home printed photographs, junk mail, specialty catalogs and so forth. Added together, such uses are large. Secondly, these economies have a very, very long way to go in the per capita consumption of sanitary grades and the use of pulp for sanitary products. Thirdly, as consumer markets become more sophisticated in third world economies, the use of packaging of all types will increase.

This first cluster of trends indicates that pulp and recycled fiber are going to be in short supply for a long time to come, barring wars, pestilence and other possible disruptions affecting the march from third world to first. I first mentioned this in the August 2007 edition of The Thompson Private Letter (and thought I was late then). Now, some investment bankers have started to notice this condition. If you are a pulp manufacturer, this is great news. If you are a non-integrated paper producer, expect to spend a lot of time figuring out how to extend fiber (read: use less).

The second matter is obvious as a trend; our success will depend on our prowess in developing markets that will help us exploit it. This trend is the decline and eventual elimination of office buildings as we know them. I wrote about this last fall in this column. These have become monolithic towers of babel erected for the vanity of humankind. As soon as those that pay the bills figure this out, they are doomed. It is crazy for people to drive 25 miles each way to sit four doors down the hall from each other only to communicate via email. This is a parallel to the development of the paperless office, long predicted and relatively recently realized.

It is becoming clearer and clearer that people commuting merely to gather together in the same place each day is a huge expense and waste (of time, assets, energy and infrastructure). The historical reasons for these gatherings were obvious: people gathered to make things (manufacturing) and to communicate. However, in an information/service economy linked by modern technology, these reasons are obsolete. One only has to look at the offerings this week at the Consumer Electronics Show in Las Vegas to see how close we are coming to a screen on the wall that is economical enough and expressive feature laden enough to make sharing with one's colleagues via this medium 99% of the experience of being in the same place. Where we come in as a paper industry is the 1%--there will probably still need to be some sort of tactile experience with one's colleagues and some sort of paper/paperboard delivery of that tactile experience is ours to supply, providing we can be creative enough (I have a fuzzy idea of a tactile connection in my head that consists of some combination of greeting cards, pizza boxes and overnight courier envelopes, but I am not quite sure what it is yet).

Generation Y is completely on board with this idea of no office--they have been trained by their experiences with Facebook, MySpace, YouTube and so forth. When they are in the workforce en masse (about 2 - 5 years hence) they will demand this happen, for 75% of the savings comes out of the employee's account--automobile ownership costs, transportation fuel, transportation time, tolls, parking, wardrobe and so forth. Employers will get a big benefit, too, in that office space, sick days (you can't give your colleagues a cold, at least not yet, over a computer connection or a cell phone), weather-related absences and worksite liabilities will be reduced. I also have a sense from my own experiences that isolated interconnected employees are more efficient--they tend to communicate about work only and all the other ash and trash seems to go away.

In the meantime, safety hazards lurk from the moment you get out of bed each morning until you return there each night (and even then, the ceiling can fall in on you!). The commute, work conditions and mental attitude make caution the watchword.

Be safe and we will talk next week.