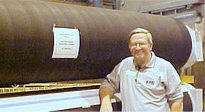 Week of 7 Jan 08
There are a few items I mention on a fairly regular basis. I do this because I believe them to be extremely important. As we move into the 8th year of Nip Impressions, it may good to put these all together in one place. Some are obvious, some are not and some we want to avoid. That does not keep these matters from being the controlling ones in our daily professional lives.

First, an enterprise in the non-government sector exists because investors believe they can make a better return on their capital by investing it in the enterprise than by keeping it in a bank or stuffed in their mattress. This is true from the smallest lemonade stand to the largest, most massive enterprise in the world. Additionally, if the investors see a better opportunity, they may unload their current investment, at fire sale prices, in order to invest where they think they can make more money. You do this yourself with your own retirement funds, be they extremely modest or large. Expect the investors in the enterprise that employs you to behave exactly the same way.

As such, secondly, employees are merely a necessary evil in most enterprises (except small ones that directly employ the investor(s) or the investors' relatives). If an enterprise can figure out how to get by without employees, they will. To my knowledge, among conventional enterprises, the closest anyone has come to this so far is Google. Of course, in the sports world, every professional team has succeeded in minimimizing the number of employees per dollar of revenue--that is why they can pay the outsized salaries demanded by good talent. Yet, this (minimizing employees) is the goal of all enterprises. Since General Motors installed their first primitive robot in the early 1960's until now, the robot population per dollar of sales has grown while the number of employees per dollar of sales has shrunk dramatically. This has not been a malicious action, it is merely economics.

To clarify and as an aside, full employment is a government issue, not an enterprise issue.

Your employer does not pay you; your employer's customers do. If your employer stops having customers, you will stop being paid. Thus, everyone is a salesperson. Some directly touch the customers and some are a long distance from the customers, but all employees are sales people.

The only objective of the enterprise is, for the thousandth time, to spin the invoice printer. A legitimate invoice is the only way the enterprise can generate income. You must find a path from what you do to the invoice printer. If not, somewhere, someday, someone will discover the broken link and eliminate your job.

I wish I had thought of this one, but I didn't: you are hired based on your resume and fired based on your personality. When downsizing comes, unfortunately, those that land on the cut list always get there because someone with some influence as to who gets on this infamous list does not like them.

Specific to our industry or ones similar to it: saving worn parts taken from production machinery is extremely expensive. They get in the way of finding things one really needs (see below). Rebuilding them usually cost more than purchasing new. The real disaster is their re-installation and subsequent unplanned failure. Such parts do not improve with age. The worst disasters in this area occur with electrical or electronic components. All parts, when removed, should be immediately sent to the scrap heap (and that heap needs to be a long way away, say at your local recycler's facility, where hopefully they will be crushed within minutes of arrival).

Adoption of complicated management fads do not solve a problem-laden enterprise's difficulties and may destroy a well-run enterprise. Remember, the most difficult management job in the world is managing a military force, for you are asking your team members to be ready, willing, and able to make the ultimate sacrifice for low pay. Military management, often accepting team members with limited education and sometimes the illiterate, organizes, trains, and manages them effectively with an extremely simple command and control structure. I have not seen anyone anywhere improve on this.

Also from the military, cleanliness and organization of physical assets are essential elements for success. It is well documented and widely proven that neat, organized and clean facilities, from your upper right hand desk drawer to the largest building on your site, generate higher standards, more economical operations and ease of management. If you don't have time to clean up it is because you are wasting time looking for things in an unorganized mess. Junked up facilities generate low morale, low professional standards, excessive work and are accident prone.

Speaking of accidents, the first safety rule I remember is my dad showing me how to lay a garden hoe on the ground so that it will not flip up in one's face (lay it down blade down). What is the first safety rule you can remember? Be safe and we will talk next week.