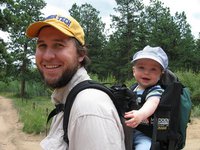 There are economic and ethical dimensions to our personal spending decisions. As a result of demand for products that promote particular values, consumers now face a myriad of labels to navigate: organic, fair trade, grass-fed, free-roaming, as well as the price tag. With regards to paper products, there are two primary groups that promote standards beyond the legal minimum in North America: The Sustainable Forestry Initiative (SFI) and The Forest Stewardship Council (FSC).
FSC has its origins in a 1990 conference of forest product stakeholders, and the Rio Earth Summit in 1992 precipitated incorporation of an international superstructure and country chapters. FSC seeks to manage a global certification system to "credibly identify well-managed forests as the sources of responsibly produced wood products." (http://www.fsc.org/our-history.17.htm) Since its inception, FSC has issued more than 20,000 chain-of-custody and 1,100 forest management certificates covering more than 150 million hectares in 80 countries. (http://www.fsc.org/download.facts-and-figures-june-2012.436.htm) Among PM40 companies, 3M, Boise, Cenveo, Clearwater, Domtar, Fibria Cellulose, International Paper, Kapstone, Kimberly-Clarke, MeadWestvaco, Mod-Pac, Neenah Paper, Potlatch, Rock-Tenn, Sappi, Sonoco, Verso, Wausau, and Weyerhauser all have one or more plants or products that have sought FSC certification. (http://www.fscus.org/images/documents/FSC%20certified%20pulp%20list.pdf; http://www.fscus.org/images/documents/FSC%20certified%20paper%20manufacturers.pdf)
SFI began as an initiative of the American Forest and Paper Association in 1994, before eventually becoming a chartered nonprofit in 2001. SFI's stated mission is quite similar to FSC. SFI directly certifies forests and the chain of custody of forest products, encourages the use of "legal and responsible" non-certified fiber, and monitors labeling of products as SFI-certified. http://www.sfiprogram.org/sfi-standard/index.php PM40 companies that participate in SFI certification include: Boise, Buckeye, Clearwater, Deltic, Domtar, Glatfelter, Graphic Packaging Corp., Greif, International Paper, Kapstone, Louisiana-Pacific, MeadWestvaco, Packaging Corporation of America,Rock-Tenn, SAPPI, Sonoco, UPM-Kymenne, Verso, and Weyerhauser. (http://www.sfiprogram.org/files/pdf/SFIProgramParticipants.pdf)
Casual observers may not be able to distinguish between FSC and SFI. Many companies are choosing to pursue certification from both bodies. One perspective holds that much like competition among producers to provide low-priced, high-quality goods and services, multiple certifiers will push each other to produce better standards. The alternative view is that multiple standards confuse consumers and can eventually lead to a race-to-the-bottom whereby producers eschew tougher standards for easier ones. (http://www.lfpdc.lsu.edu/publications/working_papers/wp71.pdf) When consumers have little knowledge of what eco labels actually mean, then greenwashing – touting a product as ecologically sensitive when it does not represent best sustainabiliy practices – becomes an easy marketing gimmick.
In 2010 the advocacy group ForestEthics produced a report titled: SFI : Certified Greenwash. (http://forestethics.org/re-straightening-the-record-stop-sustainable-forestry-initiative-greenwashing) ForestEthics laments the close ties between SFI and industry. As SFI itself notes: "SFI Inc. is primarily supported financially by SFI program participants who use the program's forest management and fiber sourcing standards… SFI program participants provided 93 percent of the funding for SFI Inc., and the remaining seven percent came from annual conference revenue, various services agreements, investment income and other miscellaneous sources." http://www.sfiprogram.org/files/pdf/SFI_AnnualReport_2012_Sprds.pdf ForestEthics that SFI is essentially an industry group, with little motivation to promote standards that could negatively impact their sponsors' bottom-lines. Furthermore, since SFI is a registered nonprofit, companies receive tax breaks to support an organization that in turn gives them a potential marketing advantage.
Whether a conflict of interest exists or not, the negative publicity around the ForestEthics report and subsequent news coverage led to several high-profile companies publicly dropping their affiliation with SFI, including Aetna, Allstate, Garnet Hill, Office Depot, Performance Bicycles, Symantec, United Stationers, Ruby Tuesday's, Phillips Van Heusen, Shutterfly, Pitney Bowes, Allied Electronics, Energizer, and US Airways.
As an advocacy organization, ForestEthics is not held to journalistic or academic standards. They may or may not have have overstated the case against SFI, but ForestEthics clearly made an argument that resonated with enough consumers to cause PR distractions for some very big firms. In drawing lessons from this episode, Ariel Schwartz of Fast Company suggests the following: "Avoid using controversial eco-labels to begin with. That way, you don't have to ditch them later." www.fastcoexist.com/1677849/battle-of-the-eco-labels-controversial-forest-certification-standard-dropped-by-aetna-allsta I would add the corollary: perceived or potential conflicts of interest can be as damaging as actual conflicts of interest.
FSC stands poised to claim the standard as the premier certifier of sustainable pulp and paper products. Their success in drawing more forests and products under their influence will serve as a barometer of how important the eco-conscious segment of the market will be moving forward.
***
Travis holds a Ph.D. in public policy from the Lyndon B. Johson School of Public Affairs, University of Texas, Austin, Texas, USA. He resides in Golden, Colorado, USA.