[Adv.] Process Laboratories
Published: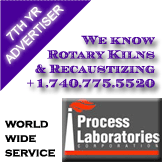 We wanted to mention our friends at Process Laboratories again today. According to their website, "Process Labs is a chemical engineering company limited to private engagements from industry. Process Labs supports the intermediate production stages of basic materials and solid commodities such as pulp, lime, and Portland cement through contract research and process optimization. Clients include pulp mills, mines, and factories operating rotary kilns or industrial furnaces; their business environment is substantially defined as a trial of technical strength and scientific prowess between opposing management teams. We help our clients produce more, at lower cost, with more consistent quality, and our client list includes nearly every Kraft pulp mill in North America."
Mike Ryan, President, is a real professional. And every time I talk to Mike, he is at a client's site somewhere in the world -- obviously his services are in high demand. Please check them out today.
And, let Mike know you heard about his company on Nip Impressions.

Thanks,

Jim

Riddles by Travis:
How many times in an 11-hour period do an analog clock's minute and hour hands cross?
You can find the answer by starting here.
Comment