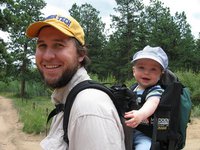 Fred Smith, CEO of FedEx, thinks the U.S. should "end our need for oil." Because of the oil shocks caused by the 1973 Arab oil embargo, FedEx almost folded as a startup. Since then, Smith has been looking for ways to decouple the success of his business from the vicissitudes of the global oil market. Much of the world's most easily accessible petroleum lies in countries that do not share American interests. The costs – political, ethical, and economic – of encouraging stability in these countries and protecting the worldwide energy infrastructure fall asymmetrically on the United States. An increasingly competitive and interdependent global economy relies on oil to fuel growth (pun intended). A more diffuse source of transportation energy would allow greater strategic and economic flexibility. As Smith points out, "Every American recession over the past 35 years has been preceded by -- or occurred concurrently with -- an oil price spike." http://money.cnn.com/2011/02/01/technology/frederick_smith_energy.fortune/index.htm
FedEx has a three-pronged long-term approach to limiting its own exposure to oil price hikes. For its final deliveries, Smith sees all-electric vehicles as a viable alternative to gas-powered vans. For long haul trucking, Smith argues for natural gas. For its fleet of planes, Smith points to algae-derived biofuel as a promising replacement for conventional jet fuel. The cost savings are potentially huge. According to Smith, "An all-electric pickup and delivery van will operate at a 75 percent less per-mile cost than an internal combustion engine variant. Now, I didn't say 7 1/2 percent — [I said] 75 percent. These are big numbers." http://www.npr.org/2012/04/02/149703488/oil-scare-turns-fedex-onto-energy-efficiency
Just another liberal with an environmentalist agenda? Hardly. Among his conservative bona fides, Fred Smith is a former member of the Cato Institute's Board of Directors. Smith acknowledges ancillary societal benefits, but his primary allegiance is to shareholder value. Corporate/self-interest and a particular view of patriotism define his brand of green(er) energy advocacy. If more business leaders saw these kinds of connections between what makes sense economically and what makes sense environmentally, perhaps we could start taking real action rather than simply debating seemingly intractable ideological differences.
--------------
ForestEthics, a North American environmental pressure group, rates FedEx Office, the copy and shipping centers formerly known as Kinko's, as the greenest office retail chain. http://forestethics.org/downloads/greengrades2010_final.pdf In particular, FedEx gets praise for preferring the independent Forest Stewardship Council (FSC) over the industry supported Sustainable Forestry Initiative (SFI). Stay tuned to this column for an upcoming analysis of the FSC vs. SFI controversy.
***
Travis holds a Ph.D. in public policy from the Lyndon B. Johson School of Public Affairs, University of Texas, Austin, Texas, USA. He resides in Golden, Colorado, USA.