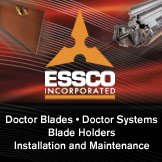 At Essco, doctor solutions are the sole focus. That's why our blades, double doctors and blade holders have built a worldwide reputation for performance, durability and value. But, just as important as the products, are the relationships. That's why we say, "The only thing better than working with Essco doctor blades is working with Essco."

Essco customers can count on personalized attention almost anywhere in the world, from the first stages of design through installation, to after-sales follow up.

Essco products are manufactured in Green Bay, WI, using modern, efficient facilities that complement the precision nature of our products. Manufacturing equipment includes the world's largest blade grinder, dedicated production lines for metal doctor blades, coater blades, and our proprietary line of advanced synthetic blades, as well as CNC machinery and other specialized equipment for the production of doctor systems.

Our dedication to the continual improvement of our products and service has helped make Essco an industry leader and trusted partner of mills worldwide. Our rich history of customer service and satisfaction — along with a willingness to listen to customer needs — has helped Essco become an industry leader, known for durable products and consistently high performance in the most demanding environments.
See why Essco is Trusted for Performance.
Email: sales@esscoincorporated.com
Phone: 1-800-835-7134
Riddles by Travis:
A farmer has three baskets of eggs. He takes a third of the eggs from the first basket and places them in the second basket. Then he takes half the eggs from the second basket and places them in the third basket. Then he takes a third of the eggs from the third basket and places them in the first basket. When he finishes his maneuverings there are 18 eggs in each basket. How many eggs where in each of the three baskets before he began to move the eggs around?


You can find the answer by starting here.