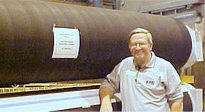 Week of 17 Dec 07
You engage in contracts every day without thinking about it. "I'll be happy to bring you a cup of coffee" is a contract. Lawyers particularly like this type—it is verbal and can generate large fees if one is passionate. Remember the poor dry cleaner that lost the guy's pair of pants and was sued for millions?

Verbal contracts should be avoided, or, at the very minimum, one must recognize that they should not engage in a verbal contract that can cause them a loss greater than they can happily absorb, either through liability exposure or loss of expectations. People engage in so-called "verbal agreements" either through machismo, laziness, or ignorance. If you think many verbal agreements do not end in failure look at the US divorce rate: 50% of these "verbal agreements" are broken. A whole class of lawyers makes their living from these failed verbal contracts.

A famous failed "handshake contract" was initiated in 1939 by Harry Ferguson of Ireland and Henry Ford. This involved building Ford tractors with the "Ferguson System" of implement connection (essentially what is known in agriculture as the "three-point" hitch). In 1952, Henry Ford II and old Harry Ferguson settled their arguments for the unheard of sum of $9,250,000 (about $70 million today) to Mr. Ferguson plus lawyer's fees of about $3 million ($23 million today) for each side. So much for verbal contracts. By the way, Ferguson took the money, bought into the Massey-Harris company and changed its name to Massey Ferguson (part of AGCO today).

In a mill, particularly in the heat of battle, it is easy to forgo contracts. Often there are several contractors on site continuously. If something goes bump in the night, one of these is called out to handle extra or specialized duties. No contract is written. These situations are dangerous if there is not some over-arching agreement, for a liability can be incurred by either side that carries unspecified damages. The proper way to avoid this is to have a blanket agreement with such contractors that covers any time they work on site. Your purchasing department and legal staff can help work these out and enforce them. If you do not know for certain that such documents exist, you might want to stroll down to the purchasing department and check out the matter.

Sometimes today, we are prone to "over-contract" matters. This is due to the tremendous growth in tort claims and government regulation. You may, like me, enjoy reading what I call the "lawyer labels" on consumer products. All of them are there for a reason, including such apparently silly ones as "don't use this hairdryer in the shower" or "the lawnmower should be kept on the ground while operating." These became written contracts because some consumer sued over the manufacturer's failure to preclude these uses of the product.

The most important concept I want to leave you with on this subject is the idea that you engage in many contracts every day, you just often do not give them any thought. The point at which you should go from verbal contracts to written is when your exposure has the potential to become more than you are comfortable losing. At that point, get it in writing.

Safety is a contract, too. Our employers are obligated to provide a safe working environment with safety equipment concomitant to the application. As an employee, we are obligated allow ourselves to be properly trained and to follow the training. Failure here can be much more than mere money. Be safe and we will talk next week.