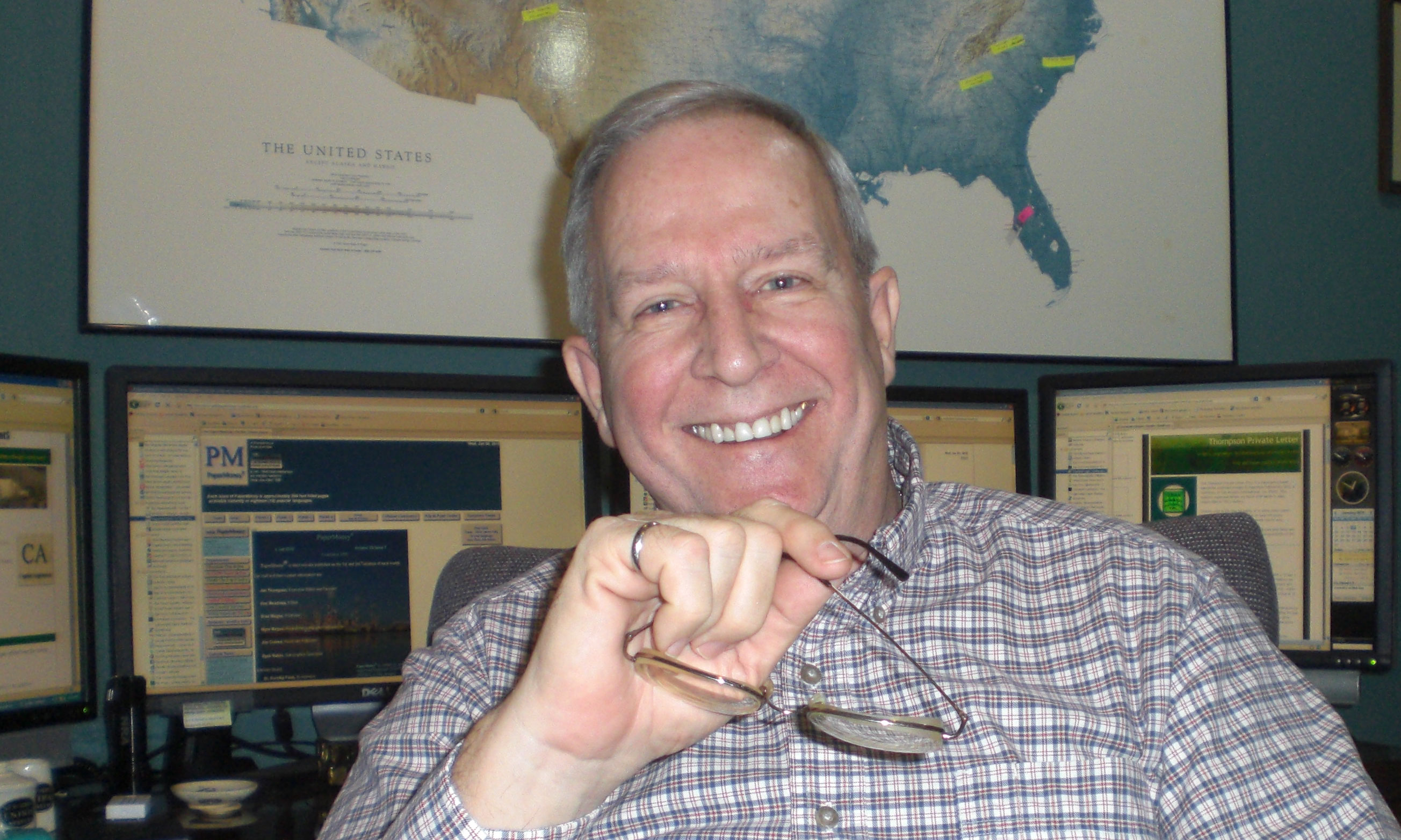 This week I had the privilege of doing one of my favorite things. I had the opportunity to go to Miami University in Oxford, Ohio for their annual Paper Science & Engineering Foundation meeting. It is so great to be around young people full of enthusiasm and promise. They haven't experienced many of the things we touch on here weekly---they are not cynical. Unlike an old misanthrope like me, they are not beat up, they are as fresh and eager as a six week old puppy. And like playing with a six week old puppy, just being around them makes one feel warm and fuzzy and full of hope.
No, there is probably not going to be any deep meaning in this week's column (not that there ever is). Perhaps, however, I can convey the sense of renewal such an exercise as described here provides me and encourage you to do likewise. We all do need a time of renewal now and then. The season of spring alone has always been one for me. I think the effects of spring go back to my teenage days on the farm, where winters were rugged and those first daffodils of spring indicated a nicer time of year was coming. This particular pulp and paper foundation meeting, coupled with the time of year, is a double latte for me.
While on campus, I had the opportunity to be the guest lecturer in the senior level design course. For you regular readers, you'll be happy to know I spent that precious time talking to them about our theme of the year—housekeeping. I explained to them the principles I have explained to you many times, either in person or here at Nip Impressions. I hope they remember them, and take them forward into their career.
Part of the enthusiasm of youth is that they don't know what can't be done. This is very good, for as we gain experience, we subconsciously build a complete data set of what will work and what won't work. What we fail to admit to ourselves, or perhaps we are not capable of admitting to ourselves, is that our failures, with just a slight tweak, could possibly have been rousing successes. Hopefully these young people will approach matters with such tweaks and find new ways to move the industry forward.
****
Advertisement--Suppliers: Looking for marketing guidance? Listen to the Pulp and Paper Radio International series on marketing. Episode 1 Episode 2
****

Its' funny, in the world of software, computers, and the internet, youth are idolized. The startups have been by young people, sometimes so enthused about their ideas they drop out of college (I don't encourage this) to start the Microsofts, Apples, Amazons, Dells and Facebooks of the world. Of course, the legions that attempt this and fail we never know. However, the ones that succeed have changed humankind forever. IBM, once the leader in computer technology, while still a very successful company, does not garner the headlines of the kids.
We don't have these kinds of technology revolutions in our industry. There are no venture capital firms hovering around the edges of pulp and paper schools ready to take a flyer on some young person's idea. Perhaps it is because the assets required to even start a technological revolution in pulp and paper will not figuratively or literally fit in a garage. Perhaps it is because no one dares think about turning our industry upside down.
One of the things I told the class was this. When cellulose is used for its material qualities—tissue, packaging and so forth, the future is as bright as ever. I remain convinced our special little cellulose fibers have not yet yielded all the secrets they have for the good of bettering humankind's lot on this earth. Latently, those secrets lie there, waiting for some eager young student to pry them from the shell. Let's encourage them, and be encouraged by them as we move forward.
We have a simple quiz this week. Do you think pulp and paper's best years are in the future or the past? You may take it here.
For safety this week, I told the class that housekeeping is an extremely important aspect of safety. You don't have to be young to know this is true and take it to heart.
Be safe and we will talk next week.
Thanks for supporting us for the last 10 years and helping us to make Nip Impressions and PaperMoney the top websites in the industry—we are grateful for your loyalty!
Want to see the column earlier on Thursday? Follow me on twitter here. They are usually posted around noon US Eastern Time.