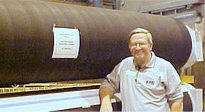 Week of 10 Dec 07
A few ideas that I have come across that can save you real money and make travel easier—consider them my Holiday Gifts for you.

A few computer tips first:

1. Having trouble with spam? I have used jthompson@taii.com since 1995. It collects more than 600 spam emails per day. I tried everything and spent loads of money trying to stop the spam. Nothing worked until I got a gmail account and then routed jthompson@taii.com through it. Gmail is free from Google and it has eliminated spam. You can also direct it to the client end (your computer) and run it through Outlook or Thunderbird (the email program I use) so that it looks just like your old setup. I suspect some of the other services such as aol.com may be as successful, but I have not tried them.
2. You can join our absolutely free community of pulp and paper people at www.cellulosecommunity.net. It has over 250 members right now. You can publicly or privately place files there for exchange with other members (such as those too big to email), you can hold public or private chats and so forth. No strings attached.
3. Where I personally splurge on computer items: (a) monitors—I have two 22" wide aspect ratio monitors on my main computer—you can see a gazillion columns on a spreadsheet with these babies; (b) back up—I use enveloc.com (there are other similar services) which automatically backs up my important files every night; (c) I carry a broadband wireless card for my lap top and (d) I have a subscription to gotomypc.com. With (c) and (d) I can access my main computer from nearly anywhere.
4. My cell phone company just paid me $30 to take a cell phone they first thought they would sell me for $350—because I genuinely threatened to cancel the line. The cell phone companies will do anything to keep you from canceling a line. You just need to make sure you handle the negotiations carefully.

Now some car and road tips:

1. When you get a new cell phone, do not buy a car charger for it. Instead, if your car does not have a built-in inverter (converts 12 v DC into 110 v AC), buy one of these that plugs into the cigarette lighter. You can buy a good, brand name one for around $30.00. This allows you to plug in your 110v ac charger in the car. This will save you buying car adapters from now on, at $10 -$15 each.
2. Considering buying a new car with a built-in GPS navigation system? Don't. Buy a stand alone GPS navigation system that plugs into the cigarette lighter. This way, when it comes time to upgrade the maps, you are not locked into the dealer's price ($300- $500) to upgrade them. GPS's are coming down in prices just like computers—you may be able to buy the next one you need a couple of years from now with new maps and more features for less than $200, but not if you are trying to upgrade a built-in one. Also if something goes wrong with the touch screen or some other component, it may be cheaper to throw it away and buy a new one, as opposed to dealer prices to fix the old built-in one.
3. By the way, the last time I bought a car, I did my research and bought it for the price I walked into the dealer willing to pay for it. How? I really did not have to buy a car and I got up and walked out three times—the sales person kept stopping me at the door. When he realized I was serious, he quit playing his silly games of writing prices on a piece of paper and asking me to sign it. I had to listen to him and his boss whine for two hours while they prepped the car after I bought it, but that was actually fun—I saved 10% over what they thought they were going to get for it.
4. Want more cell phone chargers for free? Ask at your hotel or rental counter to see their box of mislaid chargers—they all have them. You'll probably find one for your device. Do my conscience a favor, though, and tell them you are just outright looking for one, don't lie and tell them you lost yours at that hotel when you stayed there six months ago! I don't want to be responsible for that.
5. If you drive a lot like I do, and your trip is long enough you are going to be out two nights, don't drive all the way to the destination. Stay about 100 – 200 miles away. With this approach, you can stay in the same hotel in the same room two nights straight and will avoid one round trip of schlepping your bags in and out. If you stay at the same chain all the time, you may get an upgrade for staying two nights in a row.
6. Stay at the same hotel chain for the loyalty points, even if your company requires you to turn them in. It is just good business and you will get perks all along anyway.
7. We recently had a scandal in Atlanta where hidden cameras showed how poorly the real glasses are cleaned in the high-end hotels. Stay someplace where they have individually wrapped throw-aways (preferably paper, of course) to avoid this chance of getting diseases.
8. Don't use the coffee makers in the room. Guests have been known to put all sorts of unmentionables (including drugs and, shall we say, used birth control devices) in the water reservoir, either to hide them or pull a prank on you.
9. We can thank Gray Carter of Buckeye Technologies who told me this one while I was sitting in his office in Memphis the other day. Go to http://www.restaurant.com to buy immediately redeemable gift certificates you can use for meals the same day. You put in your zip code, pick a restaurant, buy a certificate and use it.
10. Speaking of restaurants, the best deal in Manhattan is L'Ecole. It is the French cooking school located at the corner of Broadway and Grand (many blocks south of Times Square, just a few blocks north of Canal Street). A fabulous full seven course meal at a tiny fraction of Manhattan's prices. Call several weeks in advance for reservations—212-219-3300. Address: 429 Broadway.
11. Of course, in southwest Alabama, the best catfish is at Ezell's on the Tombigbee Waterway at Alabama Route 10. In fact, it may be the best catfish anywhere. No reservations required.
12. I know where the best chocolate cake in the world is, at any price: The Rexall Grill, Buford Highway, Duluth, Georgia. My dear departed mother did not make chocolate cake this good. No reservations required, but they are only open for breakfast and lunch.
13. Take all the spare unused bars of soap and little bottles of shampoo from your hotel room. There is no doubt a local food bank or other charity in your home neighborhood that collects these and gives them to the indigent.
14. Now, spend some money and pass on some of your savings. Who is the poorest paid person that you never see that touches your life? The cleaning person for your hotel room. Leave them a generous tip, and not just at the holiday season, do it in all seasons. They need it worse than that snooty waiter at the high end restaurant that you tip generously to impress him and your guests. You'll feel good about it—you helped someone you never met and did not show off to anyone else about what you were doing—a true altruistic gesture.

Safety—you have to know how to get from your hotel room to outdoors at 3 a.m., with no lights and with the halls filled with smoke. You know this already—just practice it. Be safe and we will talk next week.