[Adv.] Independent Consultants
Published: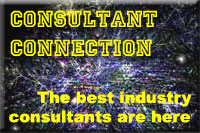 We want to use this space this week to hightlight the independent consultants that support us. This is a fine group of experienced professionals with a multitude of great experiences and expertise. Please click on the link above or "more" below to see what they can bring to your business. I have personally known each of them for some time and highly recommend them.
By the way, have you taken our Professional Consultant's Test? It is available here.

Jim
Riddles by Travis:
A gentleman lives on the 11th floor of an apartment building. Every day he takes the elevator to the first floor, gets off, and goes to work or to conduct personal business. When he returns, he takes the elevator to the 6th floor, and then walks the additional flights of stairs to his apartment. He only walks up stairs between the 6th and 11th floors, and he doesn't really need the extra exercise. Explain his behavior.


You can find the answer by starting here.
Comment