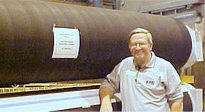 Week of 3 Dec 07
Some of you have commented over the years on my weekly safety admonishment. Years ago, when I started this column, I decided one important thing to be done here was beat the safety drum. We have and plan to continue to do so.

I want to talk to you today, however, about general liability--caused by people or caused to people through exposures of various kinds. Some of these are safety matters, some are security matters. Others can be employment law induced.

A special note about safety first, though. Employees and others often become confused and think that a safety emphasis is caring or emotionally based. This is not true with corporations, for as I have said before, a corporation is nothing but a pile of legal documents, it has no emotions. So, the over-arching safety emphasis has its genesis in cost savings, cold, impersonal cost savings. That does not mean, however, that we can, should or even must be impersonal about watching out for the safety of our fellow workers and ourselves. It is an emotional and caring issue at the front lines of any job and it is right that it be so.

My observations over the years, however, are that we notice a liability, whether it be safety, security or something else, at the time it is an issue. Then over time, we forget it. Take, for instance, butane lighters. I remember back in the early 1980's, a couple of welders were making repairs in a vessel (can't remember if it was a pressure vessel or not) and, as one of them knelt, he inadvertently, due to the position of his pocket and the lighter in it, caused the lighter's lever to be depressed and discharge butane gas. The next time he struck an arc with his welder, he and his co-worker were killed—there was enough butane in the vessel to cause a flash fire.

This did not happen at our mill, but I remember at the time we made a big deal of it. We banned butane lighters, brought the incident up in safety meetings and generally gave it wide publicity. I suspect other mills did the same. But what has happened since then? Other than adding butane lighters to a long list of rules, has anyone discussed why butane lighters are dangerous in the last twenty years? How many serious issues like this are lost in the fine print in your mill?

What other liabilities have you experienced, either locally, in your company, industry wide, or in related industries that were a big deal at the time and then dropped? Do you offer refreshers on these subjects?

In a month we will be talking about New Year's resolutions. I would like to suggest you make a December resolution: Dig up all the old liability incidents you can find and review them in your December safety meetings. Make a contest of it—ask people to recall old incidents and the training that they invoked. Resolve to be prepared, before January comes, to be up to date on the old stuff, with it fresh in your minds so that it will not cut anyone's 2008 short. You just might save your corporation a little money, too.

I don't think I need to say much else about safety this week, but this: think safety all the time. Be safe and we will talk next week.