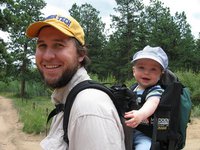 Environmental issues have a way of becoming emblematic. We do not have to know many details about a particular policy or project before guessing whether the U.S. Chamber of Commerce (and most Republicans) or the Sierra Club (and most Democrats) will support or oppose it. In this politically-charged presidential election year, I hope to address some of the issues that will produce frequent sound bites. This month: the Keystone XL Pipeline.
TransCanada is a Canadian-based energy infrastructure company that owns and operates thousands of miles of natural gas and crude oil pipelines in North America. TransCanada's Keystone Pipeline system currently transports crude from Hardisty, Alberta, Canada to terminals in Illinois and Oklahoma. Keystone XL is TransCanada's proposed expansion of the Keystone system to include a direct connection from Hardisty to refining facilities in Port Arthur, Texas and Houston, Texas. This would include new pipeline built in Montana, South Dakota, Nebraska, Oklahoma, and Texas. (See a map at: http://www.transcanada.com/images/content/Pipeline_Projects/KeystoneXL_Map_hd.jpg).
Because Keystone XL would cross the U.S. border, the regulatory process for its approval includes a Presidential Permit from the Department of State. TransCanada made its initial application in 2008. In August 2011, the Department of State issued its Final Environmental Impact Statement (EIS). The State Department did not identify significant environmental impacts, but enough concerns were raised about the project, especially from Republican-leaning Nebraska, that President Obama decided to postpone a final decision until after the presidential election. However, the December 2011 legislation to extend the payroll-tax reduction and unemployment benefits called for the State Department to accept or reject the final step towards approval by February 21. The final approval would be a positive finding in a "determination of national interest" which weighs factors including "energy security; environmental, cultural, and economic impacts; foreign policy; and compliance with relevant federal regulations." (http://www.keystonepipeline-xl.state.gov/clientsite/keystonexl.nsf/03_KXL_FEIS_Executive_Summary.pdf)
The February 21 deadline may not ultimately prove meaningful. The State Department may refuse to make a final ruling, arguing that Congress has no authority to dictate the timing of foreign policy decisions to the executive branch.
The Keystone XL controversy has created some unusual coalitions. Joining oil industry groups, like the American Petroleum Institute in support of the project are some labor organizations, including the Union of Plumbers, Fitters, Welders, and HVAC Service Techs. These unlikely allies claim that the new pipeline would promote American energy security, by expanding access to a friendly and politically stable source of oil and gas, and would stimulate the economy by employing thousands of employees for the duration of the construction project (two years or so). Joined in opposition to Keystone XL are environmental groups, Native American tribes, and some farmers, ranchers, and landowners. Those opposed to the project fear environmental degradation occurring through construction or oil spills, and/or the mining and combustion of Canadian tar sand oil.
Politically, the Keystone XL decision will be difficult for President Obama. Postponing a decision or deciding not to issue a permit will anger some union members. Organized labor tends to support Democratic candidates and causes and would likely play a key role in a successful Obama reelection campaign. Republicans would decry anything other than immediate approval as job-killing regulatory overreach. Contrarily, granting the permit would further alienate green voters, many of whom are already angry at the President for not showing more leadership on climate change issues.
The impacts the Keystone XL decision will have on American and international business could ultimately depend on geography. Because TransCanada does not currently have the option to send product to competing Gulf Coast facilities, refiners in the Midwestern U.S. currently enjoy a discount on crude oil from the extant pipeline. Construction of Keystone XL might moderately increase fuel costs in the Central U.S. while reducing costs elsewhere. Should the pipeline be rejected outright, the petroleum would probably not remain in the ground. Rather, the crude would likely head to Asia, to its economic benefit.
For strident environmentalists opposition to Keystone XL might come easy, but for progressive realists, the issue is more complex. (Matt Yglesias wrote a much maligned (by progressives) post http://www.slate.com/blogs/moneybox/2011/12/19/is_keystone_xl_a_good_idea.html; Matt Bruenig presents a more nuanced view http://mattbruenig.com/2011/12/19/the-tactics-of-keystone-xl-protestors/). The ultimate environmental issue for greens is atmospheric carbon, but political agreement on capping emissions is not imminent domestically or internationally. Even if such an agreement were in place, petroleum fuel will be a major part of the near- and mid-term energy mix. Why then sacrifice the opportunity to access an abundant supply that will be exploited regardless? It might be difficult for greens to control the narrative on this question, but impatient Republicans might have actually done them a favor by pressing for a quick decision. President Obama may appeal to arguments about process (for instance, the final route of the pipeline through Nebraska is still undetermined) to reject TransCanada's application, rather than evaluating the actual merits of the project. Such an outcome would be unsatisfying to many on both the left and the right, but refusing to make a hurried decision might also be the most responsible course of action.
***
Travis holds a Ph.D. in public policy from the Lyndon B. Johson School of Public Affairs, University of Texas, Austin, Texas, USA. He resides in Golden, Colorado, USA.