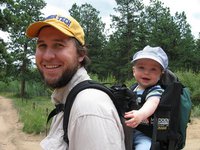 It's beginning to look a lot like Christmas in Colorado. Black Friday, and the endless news coverage thereof, is mercifully over. Holiday decorations are out, bell-ringers are collecting change, and carols are in the air. Christmas tree lots have sprung up and megastores have the latest in LED-embedded artificial trees clogging the aisles. If you celebrate Christmas in the western world, you have probably confronted the question of whether to display an artificial or a natural tree.
Unsurprisingly, a fair bit of research, analysis, and opinions exist on the pros and cons of tree types. Also unsurprisingly, there is plenty of disagreement.
One serious way to address the real vs. fake tree debate is to conduct a Life Cycle Assessment. The Montreal-based sustainability consulting firm ellipsos has done just that. (http://www.ellipsos.ca/site_files/File/Christmas%20Tree%20LCA%20-%20ellipsos.pdf)
The goal of a Life Cycle Assessment is to evaluate "potential environmental impacts of a product or an activity over its entire life cycle… [taking] into account the extraction and processing of raw materials, the manufacturing process, transport and distribution, and, finally, recycling and disposal at the end of life." (ibid., p. 4) If you're busy looking for that perfect gift you probably don't have time to read a 91 page analysis, so I'll summarize ellipsos's finding: "The natural tree is a better option than the artificial tree, in particular with respect to impacts on climate change and resource depletion." (ibid., p. 9)
The American Christmas Tree Association (a pro-plastic outfit) and PE Americas, another sustainability consulting shop, beg to differ. (http://www.christmastreeassociation.org/Article%20Pages/environmental-carbon-footprint-study-on-christmas-trees) "If only kept for one year, the natural tree is environmentally-preferred to the artificial tree across all environmental indicators studied and all end of life scenarios considered. However, if kept for nine years, the artificial tree is...environmentally-preferred to the natural...For artificial trees kept between one and nine years, the environmental preference for one tree vs. the other is highly dependent upon the distance the consumer drives to buy the tree and the end of life treatment of the natural tree." http://www.lcacenter.org/LCAX/abstracts/abstract.php?id=171
The one idea that the two studies agree on…it doesn't really matter:
"Although the dilemma between the natural and artificial Christmas trees will continue to surface every year before Christmas, it is now clear from this LCA study that, regardless of the chosen type of tree, the impacts on the environment are negligible compared to other activities, such as car use." - ellipsos
"The primary take-home message from this study is that consumers who wish to celebrate the holidays with a Christmas tree should do so knowing that the overall environmental impacts of both natural and artificial trees are extremely small when compared to other daily activities such as driving a car." – PE Americas
Somehow this all seems like a metaphor. A sincere environmentalist can agonize over decisions like how to decorate for Christmas, but these quandaries have a minute impact on our overall carbon footprint compared to the big issues of how much energy we use in our homes, how many miles we drive and fly, and what kind of food we eat. Indeed, personal decisions are small potatoes compared to the policy priorities of nations. Compared to the decisions Canada makes concerning its tar sands or China makes regarding coal mining and burning, nothing you and I do has a measurable impact on the concentration of carbon in the atmosphere. I favor thoughtful consideration of consequences, but at some point the adage "don't sweat the small stuff" applies.
So too does the metaphor apply to the onrushing season of celebration and reflection. Before the busyness of holiday parties, shopping, and preparation gets overwhelming, decide what matters most. For many that will be faith and family, for others rest and rejuvenation, for others ushering out the past and looking ahead towards brighter days. If we can concentrate on the big picture, then maybe the travel delays, the imperfect gifts, and the occasional humbug attitudes we encounter won't dampen our spirits too much.
Blessings and peace to all.
***
Travis holds a Ph.D. in public policy from the Lyndon B. Johson School of Public Affairs, University of Texas, Austin, Texas, USA. He resides in Golden, Colorado, USA.