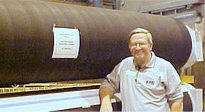 Week of 26 Nov 07
This column will be published on the afternoon (US Eastern Standard Time) of the US holiday, Thanksgiving. In this country, we all know the story of the Pilgrims, when after their first plentiful harvest, they and their Native American friends held a feast. During the US Civil War, President Lincoln turned this widely celebrated event into a national holiday, fairly unique in the world (Canada also celebrates Thanksgiving in the fall).

Not long after President Lincoln's action and in an unrelated move, progressive governments, starting primarily in Europe, began introducing the idea that the government held some responsibility for the welfare of its citizens. In the ensuing 140 years or so, this idea has mushroomed into the government entitlement programs of today. Entitlement has become such a taken-for-granted concept that even in those areas of life, such as work, where it would seem to have little relevance it does.

It used to be that people were thankful for having a job. Now their thanksgiving for being hired lasts perhaps a month. It is a stigma; one looks weak to their peers and loses face if their attitude towards their employer is anything less than entitlement. Such an attitude keeps them from being focused on the reason they were hired in the first place, which is to spin the invoice printer.

Such an attitude has forced employers to be extremely careful in hiring, for many lawyers make their living suing employers who discharge workers living under the social norm that they are entitled to their job, regardless of their performance.

Friends, at least in the United States, the founding fathers decided they could only promise, or entitle, us to "life, liberty and the pursuit of happiness..." That doesn't say anything about your failure to perform still entitling you to employment.

On the other side, we can be thankful for our employment without being mindless and groveling, too. The quietly confident and competent do this every day. They appreciate their job, but they have the confidence that they will be treated fairly if they point out some errors in the direction being taken by the enterprise. They have the competency to go somewhere else if they find this is not the case.

Sadly, I have come to the conclusion that thanksgiving and entitlement, at least as practiced today, are more nearly antipodes than coexisting concepts. Such a condition is destructive, to companies, societies, and individuals. Think about it--I believe you will agree most of the entitlement driven individuals you know are pretty grumpy people, uncooperative and not very efficient. On the other hand, the thankful crowd is often quite pleasant and the one to get things done.

Surprisingly, the attitude of entitlement or thankfulness is not determined by wealth. I have known people on the Forbes 400 List and I have known people so poor they lived in corncribs. I know some very wealthy individuals, as well as some very financially poor individuals who display attitudes of thanksgiving every day of the year. Yet, I could make the same statement about the entitlement driven that I personally know--some are very wealthy, some are very poor. Upon reflecting, I think you will agree with me that the genesis of one's leanings in the thanksgiving-entitlement tension is probably related to one's personal work ethic. And certainly, one's happiness has to do with one's attitude of thanksgiving.

So, put your shoulder to the wheel, spin the invoice printer, and be thankful you work in this great industry. If you do not come from a heritage of a work ethic, practice acquiring one and I believe you will find yourself a much happier person. I know the individuals you associate with every day will find you a more pleasant person.

Be thankful, too, every day you don't have an accident. Write a thank you note to the person that led your last safety meeting, expressing your gratitude for their help. Be safe and we will talk next week.