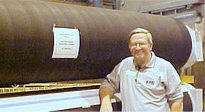 Week of 19 Nov 07
In most countries, the recycling rate is stuck in the 60 to 75% range. There is a reason for this--we have been unwilling to touch garbage, the location of much of the rest of recyclable paper.

Now, if you have been reading my thoughts for a long time, you will know I am not a rabid recycler; the world is not running out of landfills or places to develop landfills (there are a couple of US states that I think would serve quite well as landfills, for instance). When such hysteria started a decade and a half ago, I coined a word for it-"irrecyclaphobia"-the fear of not recycling.

Our motivations for recycling now are based on a real economic need--fiber. We are running out of places to grow industrial trees. This need is not going away soon, for as societies around the world continue to develop they need more paper products and more paper products require more fiber. We are seeing this most acutely in the recycled fiber available for manufacturing linerboard and medium (fluting)--the quality of recycled fiber available for these grades decreases every year.

So why don't we recycle the fiber in garbage? I think it is because we haven't tried, not because of technological barriers. It appears that we are short perhaps only one or two developments from doing this. The major development required is a substitute for the plastic garbage bag (so that this large piece of plastic is kept from the recycling stream). Here last week I mentioned how favorable the ratio of liquid packaging board cost has become to the cost of oil, used for many plastics. This favorable cost ratio should, on its own, help motivate the development of a recyclable paper garbage bag. A paper garbage bag will probably be made from unbleached tissue, for it needs lots of x and y tensile strength, almost no z strength and it must be pulpable. The sanitary tissue makers have been working on these attributes for fifty years or more, developing materials with not only the correct tensile strength properties but with just the right amount of wet strength to maintain temporary physical functionality but then disintegrate under the right conditions.

Now, if we take our collected garbage in our new recyclable bags to a properly designed recycling facility, we can get started. First, it will be sent through a ram style extruder press to remove all the liquids. This will keep soft drinks, grease drippings and so forth out of the recycling system. In fact, this liquid stream may be rich enough to turn into energy but we won't know without testing.

Next we take the dried (through extrusion pressing, not with the introduction of heat) material through a drum pulper. These devices are very effective at separating non-fibrous items (such as broken glass) from the fiber we want. From here on the process is almost routine--screens, cleaners and so forth.

We can heat the fiber to a temperature to kill any bacterial residues. We can clean the fiber satisfactorily to make linerboard and medium. We have a new source of fiber.

I can't resist adding one "political" footnote to this idea. There are some in our industry that see such ideas as ripe for running off and seeking government development money. This idea does not need such largess. There are plenty of large linerboard and medium manufacturers that can take on the development risk on their own or in consortia to develop this quickly without a large cost and without any strings (no pun intended) attached. We have a need (more fiber), a small amount of development work to do (a paper garbage bag) and then the idea is ready for commercialization. Just do it.

Which is what we should always do in safety—just do it. Be safe and we will talk next week.