[Adv.] OpTest
Published: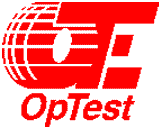 We have been talking about OpTest's OpTiSurf for a long time, but I wanted to bring you back to the full line of OpTest's instruments. Optical measurement is their expertise, and they have more clever optically driven instruments than anyone else. I suggest you look at them today--just click on "More" below. And when you talk to OpTest, please say hello for us here at Nip Impressions.
Regards,
Jim
Riddles by Travis:
Imagine you are hiring a gardener. You have 4 people interviewing for the position. At the end of each interview, you have to decide immediately whether to offer the interviewee the job. If you proceed to the next interview, you cannot go back and make an offer to a previous candidate. At the end of every interview you can always clearly rank the candidates, and there are never ties in your preferences. Your goal is to choose the BEST candidate, second-best is as bad as fourth-best. Under these strict parameters, what is your optimal strategy?


You can find the answer by starting here.
Comment