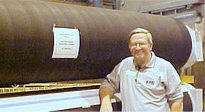 Week of 12 Nov 07
…through paperboard, more precisely, liquid packaging paperboard.

If there was ever an opportunity for a paper market segment to recover a lost business it is now. The business is liquid packaging paperboard for milk cartons (and possibly some other consumer products).

A couple of decades or more ago, liquid packaging paperboard was largely lost to plastic jugs due primarily to costs, not form or function. Two recent events could return this business back to paperboard if the marketing were handled correctly.

Issue One: National Security. If a country made milk cartons out of paperboard instead of plastic, it would reduce one's dependence on foreign oil. Not by much, but certainly as much as some of the alternative energy schemes currently being tossed about. And, another marketing benefit: liquid packaging cartons can, using this line of reasoning, be marketed as "green." This is one of the most powerful contemporary marketing terms.

Issue Two: Personal Family Safety. Parents are going bonkers over plastic toys and other plastic items (such as baby bottles) that have the potential to contain bisphenol-A or phthalate. Assuming liquid packaging does not contain these (and that plastic milk jugs might), this will score big with parents. There is no faster way to move retail markets than with emotions surrounding small children (look at all the toy recalls in the last six months).

As an industry, we have not had an opportunity like this in years. We can look good, because we are, and possibly for once, we can overcome a pure price issue (we are "green"!). As a matter of reference, the ratio of crude oil price to liquid paperboard packaging price was around 1:19 in 1985; it now stands at something like 1:10. This ratio was somewhere around 1:25 when the move to plastic jugs began in earnest in the 1970's. If our salesforces used the excuse that we lost the business to price, it is time for them to kick some derriere and win it back for the same reason. Major marketing campaigns on Issues 1 and 2 above would help generate consumer demand for the switch.

Some orange juice sizes, especially the larger ones, are also packaged in plastic and may present further opportunities.

The reduction in foreign oil argument also may be a winner in another area—liquid detergents. These could certainly be packaged in liquid packaging paperboard, and if the argument could be successfully made that this reduces dependence on foreign oil, it might also be a winner. Additionally, in this case, the containerboard corrugated box for transporting liquid detergent would also be smaller, for it would not have so many air pockets as one holding liquid detergent jugs, which contain many curves, requiring an overall bigger jug (and hence air spaces in the corrugated container) for the same internal volume.

What are we waiting for? This is a market that has fallen in our lap while we did dnothing but stand still.

Speaking of containers, have you reviewed your vessel entry safety procedure lately? Might be a good time for an update and refresher. Be safe and we will talk next week.