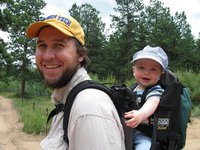 The race for the Republican presidential nomination got more interesting in the last couple of weeks as Texas Governor Rick Perry entered the fray. Perry combines Tea Party credibility with executive experience, a combination which may give him the inside track for the nomination. Perry's emergence will lead to more direct debate going forward. Republicans agree on much; as a result, what differences that do exist will be brought to the fore.
Among the differences between, say, Rick Perry and Jon Huntsman are beliefs about climate change. In his campaign book Fed Up! Perry refers to the case for manmade climate change as "all one contrived phony mess that is falling apart under its own weight." By contrast, Huntsman says, "90 percent of the scientists say climate change is occurring. If 90 percent of the oncological community said something was causing cancer we'd listen to them. I respect science and the professionals behind the science so I tend to think it's better left to the science community - though we can debate what that means for the energy and transportation sectors." http://thehill.com/blogs/e2-wire/677-e2-wire/177503-in-their-own-words-the-gop-presidential-candidates-on-climate-change
Perry seems closer to the party base than Huntsman. An October 2010 Pew Research Center poll shows wide partisan differences in attitudes towards global warming. http://pewresearch.org/pubs/1780/poll-global-warming-scientists-energy-policies-offshore-drilling-tea-party 79% of Democrats surveyed believe that "there is solid evidence that the average temperature on earth has been increasing over the past few decades," while only 38% of surveyed Republicans agree with such a statement. Independents, predictably, fall in the middle. Even among Republicans, there is a wide difference between those associated with the Tea Party and those who are not. Among Republicans who agree with the Tea Party, 70% do not believe the earth is warming, while only 38% of other Republicans hold this view.
That human emissions of climate-warming gasses threaten to harm billions of people is, on some level, a faith claim. What is not debatable is where the vast majority of climate-scientists stand on the basic science. An April 2010 article in Proceedings of the National Academy of Sciences of the United States of America finds that more than 97% of climate scientists "support the tenets of anthropocentric climate change outlined by the Intergovernmental Panel on Climate Change." http://www.pnas.org/content/early/2010/06/04/1003187107.full.pdf+html
The same Pew Research Center poll cited above also asks respondents whether "scientists agree the earth is getting warmer because of human activity?" If 97% consensus has the same meaning as "agree," the answer should be an unequivocal yes. Even among Democrats, 32% of respondents report that the scientific community is not in agreement, perhaps a result of reporting on stolen e-mails from Hadley Climatic Research Unit (CRU) at Britain's University of East Anglia. The Democratic figure, however, is dwarfed by the 71% of Tea Party Republicans surveyed who report that the scientists are not in consensus on anthropocentric climate change.
Again, the question is not whether we should act to mitigate possible consequences of rising seas, droughts, floods, or species loss, but rather whether climate scientists are on the same page or not. Many Democrats don't appreciate the level of consensus, but most do. A large majority of Tea Party Republicans are misinformed.
Isolating oneself in an ideological cocoon is not a phenomenon restricted to modern Conservatives. (New Yorker movie critic Pauline Kael famously – if apocryphally – expressed shock when Nixon was elected in 1972, retorting "How can he [Nixon] have won? Nobody I know voted for him.") However, when a serious presidential candidate willingly spreads misinformation, as Governor Perry continues to do, he compromises his credibility.
People of good will can disagree on all manner of issues, but when we allow our political identity to trump evidence, we endanger our capacity to identify and respond to threats to our collective well being.
***
Travis holds a Ph.D. in public policy from the Lyndon B. Johson School of Public Affairs, University of Texas, Austin, Texas, USA. He resides in Golden, Colorado, USA.