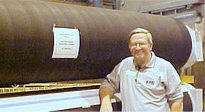 Week of 5 Nov 07
Return on Investment (ROI), Return on Net Assets Employed (RONAE), IRR (Internal Rate of Return), "Earning the Cost of Capital"—whatever you call it, a return calculation is de rigueur in making an investment decision. However, the more years I spend making such calculations (and that is over 30 years now), the more convinced I have become that such calculations do not tell the whole story nor do they provide the tools to really succeed in business.

Case in point. Nearly forty years ago (perhaps a precursor to me shooting off my mouth on a regular basis), I wrote a letter to our local newspaper bemoaning the fact that farmers bought retail and sold wholesale. I don't know if anyone in our little town of 6,000 cared about the whining of an 18 year-old or not, but I did make a point if to no one else but the paper's morgue: farming is a commodity business where the tools of the trade are bought like automobiles. Farming has become more sophisticated since then, but in reality, farmers still buy their production tools on a largely emotional basis, depending to a great measure how wealthy they feel after the harvest season. Seldom do they do rigorous return-on-investment calculations.

Such poor investment choices would lead one to believe that farm production should just about disappear. Yet food is plentiful, relatively inexpensive and in great variety. When one digs into the numbers, the constant government subsidies and the recent run-up in commodities prices due to the surge in production of corn-based ethanol are only small bumps in the long term trends. One is left with a burning question—how can food be so inexpensive and farm incomes be respectable with such poor reinvestment policies?

ROI-type calculations work for enterprises that are, as financial professionals call them, "tolling facilities." A tolling facility is one that takes in a raw material, processes it into something else, and produces a product. Sometimes, indeed often, in a tolling facility the purchaser of the final product furnishes the raw material. The "toll" is merely what happens "inside the fence." It is not innovative, it is not particularly well done, and it is just the same thing, day in and day out.

We have become an industry of tolling facilities. We take fewer risks than farmers. We take fewer risks than computer makers, steelmakers, automakers, the logistics industry and many, many others. ROI has become our mantra and it is killing us—slowly—ton by ton, year by year. And all the while, we are proud of our precision.

Some are making progress and taking good measured risks in old businesses. In the United States, Koch Industries, proud owners of Georgia-Pacific in our own sector, is one of these. In India, one need look no further than the Tata Group, a hundred plus year old conglomerate that in the early 1990's was considered virtually dead. Tata Steel, just one division, is now among the 5 lowest cost producers of steel in the world. Next fall, 2008, Tata Motors is planning on introducing an automobile that sells for $2,500.

Maybe it is just the kinds of conferences I attend in our industry, but the theme is always the same dreary one—some variant of this: "Our profitability is going away because energy (or select your own nemesis) has risen by 50% and we can't get any more for our products." It just may be the kind of conversation I want to hear is behind closed doors and not in an open forum: "We plan on selling our new newsprint for $300 per ton next year and it will perform as well as our old newsprint" but I rather suspect it is not going on anywhere, for this is not the way we think in our industry.

Why can't we make $300 or even $200 newsprint? It seems no more far-fetched than a $2,500 automobile. I have a 1974 Volkswagen Beetle in my garage that I am restoring and I'll have $5,000 (not including my labor) in it when I am done—and it will not be as good as just-off-the-showroom floor quality. Heck, Detroit has rebates on the cars they sell that are larger than $2,500.

Some of you will say a car is different, it is a discrete manufacturing process—that is different than a continuous process. Well, I'll give you another example that is close to home for each of us. In 1970, when oil was $2.00 per barrel, gasoline was about 25 cents a gallon. Today, oil is $90 per barrel and gasoline is $2.80 per gallon (of which about 40 cents is tax versus 3 or 4 cents in 1970). If the price of the raw material had much to do with the price of the finished product, we should be paying about $12.00 per gallon for gasoline which we are obviously not. Yet Congress holds hearings on the obscene profits of the oil companies and we whine that the oil companies are "stealing" our pulp and paper/chemical engineering graduates with 20% higher starting salaries than we are willing to pay.

So my challenge is: why not? Why can't we figure out how to make better products at significantly lower prices (and with good operating margins)? Is it because we just, unthinkingly, stack cost upon cost? Is it because we have a tolling facility mentality? Is it because we are wedded to some sort of ROI calculation?

Someday, somewhere, someone is going to make a gigantic breakthrough in our industry. It will probably not involve traditional players of any kind, for their thinking is too restricted. It will be something like the Daniel K. Ludwig story—the billionaire that built the pulp mill in the jungles of Brazil—Jari. Ludwig was an old man with lots of money, but he sure could think, pardon me, "outside the box." One might even say he failed, but we have to give him credit for trying. He had a choice to live out his senior years any way he wanted to and he wanted to try something different. May we soon have more Daniel K. Ludwigs.

You don't need an ROI calculation to be safe. Safety pays without bothering to pull out a spreadsheet. Accept no incidents or accidents in your mill.

Be safe and we will talk next week.