[Adv.] ASD Inc.
Published: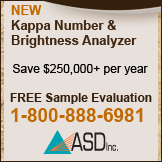 I had the privilege of visiting ASDI's operations in Boulder, Colorado recently. Although a newcomer to the pulp and paper industry, they have been analysis of all sorts of materials for years. Their approach to research, manufacturing and serving their customers is impressive. I met a number of their professionals, and their knowledge and dedication to the customers was quite evident.
Good folks, excellent product. Check them out today.
Regards,
Jim
Riddles by Travis:
A million and half were made (and dated 1974), but almost all were destroyed. The handful left are illegal to possess, but are valued highly among American numismatists.

You can find the answer by starting here.

Comment