The End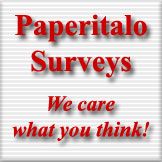 Last week we asked: "Have you had the experience of suppliers being so difficult to initially contact that you decided to remove them from your list of possible suppliers without ever talking to them?" A whopping 70% of you said "YES"

Comments:

| | |
| --- | --- |
| | It never ceases to amaze me how many suppliers seem to have the philosophy of: "Who in the Hell do you think you are, a Customer?" |
| | But I don´t like to speak to a computer voice and needed to puch on buttons for the contact I need. |
| | Problems, Yes, but only with a few. The pulp and paper industry ones are at least as good as others, and MUCH better than any of the dozen cell phone companies I have dealt with in serveral countries. |
| | Their website was under construction for at least 6 months and when I finally found out whom I should contact, my urgent request took 7 days for a return phone message and then another 2 1/2 weeks for the RFQ. Needless to say, no P.O. was forthcoming. |
This week we are asking if you are prepared for retirement. You can take the quiz here or click on "More" below.
Want to get a jump on the surveys? Follow me on twitter, where they are posted early. You can do this here. (note: all respondents are confidential; the software is programmed in such a way that neither we nor anyone else can determine who responded)
###
Want to be heard on other subjects? Be sure to watch for "Paperitalo Second Tuesday Surveys."
More...
---
 Related Articles:
---