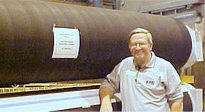 Week of 8 Oct 07
I think it is no more than two machines.

Over a decade ago, my good friend Tim Campbell and his team were talking about "min-mills" and they succeeded in building a couple of them in brown grades. However, I don't think most people really understood what Tim was saying. They got tied up and confused in the idea of comparing a paper mini-mill to a steel mini-mill, and, although there were some similarities, there were some differences, too. For instance, steel mini-mills receive much of their incoming scrap in gondola-style rail cars and ship much of their production by rail, too. A small paper mill may not even have rail service. This is just one difference.

Going back a number of decades or even a half century or more, there were very large multi-machine mills built in North America and some other regions of the world. Some of these mills had many machines because machines of the day were quite small. Others had multiple machines for other reasons.

The revolutionary changes of the last few decades preclude the vast many-machined mill of old.

These old mills were built on the premise that size brought economies of scale in administration, stores, maintenance and other areas. It was believed they also had purchasing clout. Almost all of these ideas are obsolete today. The desktop computer and the Internet have shrunk the workforce needed for overhead activities and hence the costs per ton of these activities. The Internet has brought economical purchasing to everyone. A storeroom with every nut and bolt (and the cost of carrying all that inventory) has been obsolesced by overnight delivery services. Predictive maintenance has further reduced stores requirements, for the emergency shutdown and repair scenario has been minimized—one can predict when they are going to need major items and have them arrive according to schedule, not on hand all the time. Process conditions and variations can be monitored and corrected remotely from anywhere in the world.

Two machines do serve to cut the local overhead burden in half as compared to one, but additional machines offer diminishing returns. The third machine, for instance, cuts the overhead burden as compared to two machines by only a third, the fourth by 25% and so on as any fifth grader could tell you.

There are a long list of negatives to large mills as well.

First, communities have gotten so they do not want large facilities that demand large amounts of water, have large landfill requirements and so forth. The same goes for truck traffic—build a facility with outsized over-the-road transportation needs and you will make some enemies. They, communities, have even learned they prefer jobs be spread amongst a number of smaller employers in the event of a facility shutdown.

Logistics in general is a problem for the very large mills. You must gather raw materials from a long distance and must have customers long distances away to keep the mill full and economical. This only works in specialized situations like Aracruz in Brazil, not in general grades of paper and paperboard.

The worst problem, though, is the layers of management required to keep the span of control reasonable. Beyond two machines, the facility gets too large for the senior manager on site to really know all the management team very well. This can lead to a myriad of problems, from hiding incompetence to fraud, theft and worse. This is not an exaggeration—I can cite several large mills where this has and in some cases apparently continues to occur. At the very least, in a large mill there are places, in the organization chart as well as physically, for people to hide. Hidden people are an inefficiency and a burden on the operation's profitability.

Another negative is training or finding a manager to run a very large facility. It is much different than finding a CEO or senior vice presidents lodged at headquarters—you need someone accountable for daily operations, but able to handle a large staff on a day-to-day basis. It is a rare set of qualities that most careers do not even have enough years in to develop adequately.

Safety is also better where people are more intimate and know each other. The politics of the large mill can cause distracted thoughts and lead to accidents.

Be safe and we will talk next week.