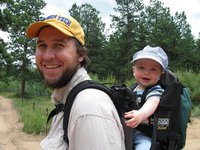 In Sustainable Energy – without the hot air author and Cambridge Physics professor David MacKay gives a lucid and highly readable description of the challenges in moving towards a sustainable energy economy. MacKay begins his analysis by bemoaning the hyperbole, exaggeration, and obfuscation that often accompany discussions of energy and environmental issues. Individuals with an economic interest in wind, or solar, or coal, or natural gas tend to twist statistics to suit their purposes. Likewise, activists on both sides cherry-pick their "facts". Mackay seeks a reduction in the emissions of "twaddle," a Britishism for nonsense, such as, "The waste paper buried each year in the UK could fill 103,448 double-decker buses." How is this information supposed to be useful to a policy maker, a consumer, or a business person? How big is a double-decker bus? How much paper is recycled? How much paper enters the British market in a given year?
MacKay's book is not a tome on the dangers of global warming. While he believes that science makes a strong case for anthropocentric climate change, there are other reasons to want to reduce dependence on fossil fuels – such as the finite nature of nonrenewable resources and the political and economic costs of importing resources from dangerous parts of the world. The specific focus of MacKay's book is whether it would be technically feasible for the UK to meet its energy demands with sustainable energy. One by one, MacKay goes through uses of energy (travel by car or plane, heating and cooling of homes, production of food, etc.) and means of producing sustainable energy (wind, solar, tidal, etc.) comparing aggregate demand and capacity. MacKay emphasizes "numbers, not adjectives," cites where his statistics come from, and invites corrections on technical issues.
According to MacKay, the embodied energy in one kg of paper is 10 kilowatt-hours, and the stream of junk mail accruing to a typical Brit takes 2 kilowatt-hours of energy per day to generate – approximately equivalent to the electricity expended by two 40-watt bulbs burning continuously. Unlike the number of double-decker buses of waste paper that the British people send to land-fills, the energy content of paper and the amount of junk mail are comprehensible, testable factual assertions. To compete within countries that impose energy use regulations and among individual consumers that are concerned about their energy footprints', pulp and paper companies will need to show that their products compete favorably against competitors (e.g. packaging) or provide performance that is difficult to replicate (e.g. sanitation products).
MacKay's gift is to remind readers that many of the big policy issues that affect business and society more broadly are not beyond the understanding of curious individuals of moderate intelligence. We do not have to trust the Sierra Club or the National Mining Association to tell us whether a green-energy future is possible, we can do the analysis for ourselves. MacKay provides an excellent starting point for such an investigation and offers a template for how to make a clear-eyed, cogent argument based on numbers.
(MacKay's entire text is available for free online Sustainable Energy – without the hot air http://www.withouthotair.com/)
***
Travis holds a Ph.D. in public policy from the Lyndon B. Johson School of Public Affairs, University of Texas, Austin, Texas, USA. He resides in Golden, Colorado, USA.