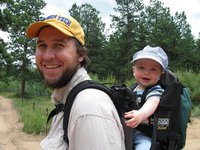 In contrast with the Copenhagen meetings in 2009, which environmentalists bemoaned as catastrophic, many deem the recent UN Climate Change Conference in Cancun a modest success. Nothing was achieved that will significantly reduce emissions, but the negotiations were less acrimonious. One of the most significant actions in Cancun was the endorsement of a framework for reducing deforestation in developing countries. The plan is known as REDD+ Reducing Emissions from Deforestation and Degradation (http://www.un-redd.org/).
The logic works like this: Forests are carbon sinks. Deforestation accounts for approximately 20% of global carbon emissions annually. Most deforestation occurs in developing countries. Without incentives to do otherwise, poor countries will continue to plow down forests as a means towards development. If rich countries want to change this behavior they will have to pay poor countries to develop along a different path. Many developed countries want to hedge their climate risk. Preserving forests in poor countries may be more cost-effective, at least in the short term, than switching transport or energy production to less-polluting technologies.
There are myriad challenges to implementing REDD+ effectively. First, there is an issue of funding. Direct foreign aid will be difficult to muster at a time when rich countries are trying to cut budgets. Under a more extensive climate change treaty credits for saved forests could trade alongside credits for emissions reductions, but such markets are only in their infancy. Even if a theoretical compensation scheme could be arranged, remote forested areas are difficult to monitor and corruption is rife in many of the countries that would need to participate for a program to be effective. Advocates for indigenous peoples fear that restricting land use will further marginalize native peoples and poor countries bemoan that foreign interests in their forests impinge national sovereignty. Finally, reducing deforestation in one area might actually promote deforestation somewhere else; constraining the supply of forest resources will increase their value.
Given these limitations, any impact that REDD+ might have on the economics of the pulp, paper, and wood products industries would occur in the very distant future. Nonetheless, the debate over REDD+ points out an opportunity for companies in developed countries to promote themselves thusly: "If you don't think we're green enough, look at the alternatives." Paper companies in particular do a good job of reminding consumers that trees are a renewable resource. A next step is to further promote local sourcing as a principle of responsible consumption. The "locavore" movement is transforming the way some consumers think about food. Co-opting the same ideas and applying them to virgin fiber seems a natural progression.
***
Travis holds a Ph.D. in public policy from the Lyndon B. Johson School of Public Affairs, University of Texas, Austin, Texas, USA. He resides in Golden, Colorado, USA.