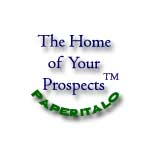 Jim,

Notice that "global warming" has morphed into "climate change"! This is clear evidence that the purveyors of this hoax are back-pedaling faster than Lindsey Lohan from her local rehab center. They constantly distort the current data (as well as past data) to fit the twisted paradigm that they have created rather than modify their theory based on strong evidence contrary to their view. The acolytes follow like sycophantic dogs with eyes wide-shut, chasing the belief that global warming will create laws and regulations which will give governments more and more power to "spread the wealth." The monetary implications are HUGE. Al Gore's personal wealth (gained through the global warming scam) since leaving office is now estimated to be approaching $1 billion, in spite of the fact that his personal carbon footprint is more than 50 times greater than the average citizen's.

Steven J. Moore
Rhinelander, Wisconsin
USA
****
Comments from our weekly quiz last week on the subject of pulp and paper research centers:
1 In Canada, even the Pulp & Paper Research Institute had to restucture due to lack of funding.

2 My interface with them has been for contract research and pilot plant work that I paid for and directed on a project-by-project basis.

3 but then I moved to non-wovens, a growing, profitable industry (and much more secretive)

4 Since Georgia Tech raped ISPT, there is no point in providing financial support.

5 No direct personal knowledge of current efforts, but considering past involvemnt, confident that it does to some extent.

6 It seems the uncoated recycled brown companies - Sonoco, RockTenn, Caraustar, Newark Group - have elected to run their paper assets as "cash machines" and not invest in further R&D...

7 Initially seen as a means to "stay in the game" while eliminating the costs of internal research. Years of funding with no commercial successes.
8 Jim, I have been retired for 2 years but continue to read your column. What I have seen over the years: Company's executives passed the buck over time to mills to decide on Research Center priorities. The mills stopped hiring engineers and the people who made the decisions about Research priorities wanted the Research people to help them solve their process problems. These Research Center became mills troubleshooters. Then the mills found out the bills were too expensive and did not see any innovations coming out of Research, hence they stopped funding them. I have seen it at Abitibi, Domtar and later at PPRIC.

9 Some still have a few free thinkers left who do a great job.

10 I agree with your editorial.

11 University P&P scientists love to spin the invoice printer. It is the only way for both them and their "company" to advance. They don't like anyone telling them to make their data fit pre-conceived notions. A researcher who doesn't bring in money is an 'associate' forever. A corporate CEO who looses billions may well get a bonus.

12 Collaborative research produced some of the most valuable results that were implemented faster and more effectively than corporate research. The participating companies shared a common interest in the results, guided the work with timely goals, and funded the work according to its potential to spin the invoice printer. The argument that participation in cooperative projects harmed competitive advantage ignored the fact that only those that implement well have any advantage at all. Environmental, energy, fundamentals of pulping and bleaching, chip pile deterioration, biomass utilization (aka Whole Tree Chips) were some of the most successful.

13 Not sure when the golden era of collaborative support for research centers was, but in the late 70's and early 80's, from my experience, many companies were loathe to share information and were pretty introverted. Also in the 80's, the rise of the finance industry seems to have started and moving money around became more attractive than actually doing something that created value. Companies I worked for and/or with seemed more focused on shorter term gains and any expenditures for research were considered too risky. Corporate purchasing agreements helped supplier companies reduce their costs which may have reduced any of their support for research centers. Most research that would benefit our company would be in product development, which is an area I hope we will collaborate with customers, but not competitors. Not sure what you are hoping to define, but if any company decided that there needed to be a change in any parts of the process of converting trees into paper, they would figure out how to fund it. The tissue companies do. But as long as there is no serious cost of discharging carbon and other stuff, and there is carbon based fuel to supply the energy needed, what are they going to collaborate on? The incremental needs are being met. If industry had a need, and needed outside research help to meet the need, I'm pretty sure they would go get it. Someone could probably say that corporate research spending/support is inversely proportional to execucutive pay over the last 20 yrs. All this is pretty subjective, just as the last several columns have been.

14 20+ years ago I worked for Westvaco in Charleston, SC. There was an R&D facility that focused on finding uses for the byproducts of the Kraft process - lignin, tall oil, fatty acids, etc. That group is much smaller today, if they exist at all, exactly because they did not directy spin the invoice printer. It seems that the "biorefinery" scientists are on the same path to obscurity...

15 It´s hard to control and direct to benefit for the industry.

16 Too few researchers with any practical experience in pulp and paper operations.

17 We need more research that is shared within the industry. It's us against China!

18 Unfortunately industry has itself to blame for the downfall of such research centres. If there was a viable market for such research, then it would have survived, but our industry has focused so much on hacking fixed costs and capital spending out of the business that the funding dried up and too many of the clever industry people that used to promote, sponsor and implement such research have either moved on (whether voluntary or not) or lost interest.

19 I find it more and more difficult to find commercial applicability for work being done. It is interesting to see the amount of work that continues to be done in areas of the industry that were once prominent but are now in decline. Research work in areas of the industry that are still strong does not appear to be growing in prominence.
****
Have a comment? Send your email to jthompson@taii.com. Unless you tell us otherwise, we will assume we can use your name if we publish your letter.
Remember, if you please, to let your suppliers know you read Nip Impressions!