Maestro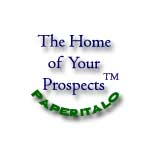 Jim,
I've been searching the archives and can't find the NI editorial when you suggested a better e-mail signature block than the derogatory "Please consider the environment before printing this e-mail."
I have a teachable moment in front of me and need your wisdom!
Thanks,

Jon Kerr
Loveland, Ohio
USA
---
Jon:
For you and others (this is requested often):
"Notice: It is OK to print this e-mail. Paper is a biodegradable, renewable, sustainable product made from trees. Growing and harvesting trees provides jobs for millions of men and women. Working forests are good for the environment, providing clean air, clean water, wildlife habitat, carbon neutral energy, carbon storage and can help mitigate forest fires."
Use with my best wishes.
Jim
****
Have a comment? Send your email to jthompson@taii.com. Unless you tell us otherwise, we will assume we can use your name if we publish your letter.
Remember, if you please, to let your suppliers know you read Nip Impressions!
---
 Related Articles:
---