[Adv.] ASD Inc.
Published: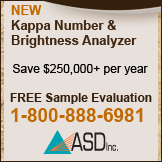 I had the privilege of visiting ASDI's operations in Boulder, Colorado recently. Although a newcomer to the pulp and paper industry, they have been analysis of all sorts of materials for years. Their approach to research, manufacturing and serving their customers is impressive. I met a number of their professionals, and their knowledge and dedication to the customers was quite evident.
Good folks, excellent product. Check them out today.
Regards,
Jim
Riddles by Travis: What is the most commonly used form of public transportation?

You can find the answer by starting here.

Comment