[Adv.] Bright Technologies
Published: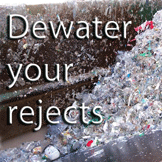 Bright Technologies, the specialty equipment division of Sebright Products, Inc., manufactures high performance wet waste dewatering equipment used in many industrial applications. Located in Hopkins, Michigan (USA), Bright Technologies has been proudly serving the Pulp & Paper Industry worldwide since 1990 with its reciprocating ram style rejects dewatering press known as the High Density Extruder.

Inefficient handling of wet process rejects can cost your mill thousands of dollars each month. Take a few minutes and contact Bright Technologies to see how they can help you reduce your waste disposal costs by 50% or more. No other equipment on the market outperforms the High Density Extruder and no other company will match Bright's high level of customer service and support.

Your direct sales contact at Bright Technologies for any pulp & paper mill waste handling application (worldwide) is Dave Kaminski. Feel free to reach Dave by email to dkaminski@sebrightproducts.com

Company websites: www.sebrightproducts.com and www.brightbeltpress.com
Riddles by Travis:
Sunburn scald, senescent blotch, and brown heart are defects of what? You can find the answer by starting here.

Comment