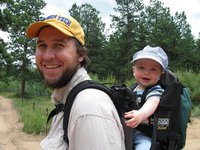 Pundits often label the United States, politically, as a "center-right country." One could point to polling data to support or refute this notion, but for the purposes of this discussion, let us accept it. If the U.S. is center-right, then an energy policy that progressives would support (say, a carbon tax) would be politically unpalatable to most of the country. On the other hand, a totally laissez faire approach to carbon emissions would please conservatives but anger many moderates. What would a center-right position on energy policy look like? Here are some thoughts:
1. Center-right Americans drive vehicles with combustion engines because they value independence and may not live in central cities. That said, when fuel costs rise, consumers pay more attention to efficiency. Americans will accept higher fuel efficiency standards because they will want to have an array of cost-effective cars to choose from in the showroom. Contrarily, expanding public transportation to suburban areas would be expensive, and, in many areas, unpopular.


2. A centrist energy policy would keep a diverse mix of power sources on the grid. Natural gas, hydro, wind, solar, nuclear, and coal would all be part of the near-term portfolio. Natural gas, in particular, will prove central to bridging our transition from dependence on coal to less carbon-intensive energy sources. Public investment may be necessary to build enough natural gas infrastructure in a timely manner.


3. A centrist energy policy would carefully study new ways of delivering old energies before accepting their broad use. Extractive industries invite regulatory scrutiny when they rapidly expand processes such as horizontal slickwater fracturing ("FRACing") without a thorough examination of impacts on water supplies and other public concerns.


4. Instead of waiting for "green" energy developments that are always five years away, a centrist energy policy would concentrate on proven technologies. Nuclear energy can produce on-demand electricity with low emissions. Start-up expenses and waste storage/disposal are major hurdles to increasing nuclear energy capacity, but these concerns may soon be trumped by the challenges of maintaining access to Middle East energy sources and the social costs of coal mining and coal power generation.


5. Efficiency improvements remain the lowest hanging fruit in energy policy. Businesses often have to think short-term to meet quarterly earnings expectations or otherwise maintain market competiveness, but governments and utilities have an interest in facilities operating with lower long-term energy use. A centrist energy policy would include programs that help transfer best practices in efficiency technology and incentivize businesses to implement them.
An energy policy built on ideas similar to those above would not reduce the United States' carbon emissions at a rate fast enough for environmentalists. At the same time, it could pressure energy producers to run their businesses differently. As such, it would please few and disappoint many. But policy in a democracy often works like this. The next several years will probably not see a cap and trade bill or a dismantling of the EPA. Instead, look for incremental steps that emphasize energy independence and pollution control.
***
Travis holds a Ph.D. in public policy from the Lyndon B. Johson School of Public Affairs, University of Texas, Austin, Texas, USA. He resides in Golden, Colorado, USA.