Another view of the environmental advocacy industry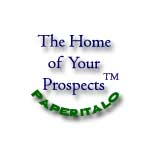 We had a strong response to our quiz last week. You will want to take a look at the "What do you think column?" to see more about that.
***
I have been enjoying your books for some time now and want to return the favor.
The mill here, International Paper, has just completed a book on the history of the mill. I spent some time editing it and am responsible for the last chapter. Would like to send you a copy as soon as the mill releases them.
***
I saw your announcement of the pending app. for iPhone.
Good move
Neither Helen nor I have an iPhone, but having bought an iPad last week, I am learning what I can do with it.
You iPhone app will run on the iPad, but unless your programmer takes appropriate action, it will be at iPhone size. The iPad button that blows iPhone up just gives a large, pixellated iPhone display.
The better iPad software runs like the iPhone, but with properly presented large display, which is of course much better than the iPhone to read.
Have a look at the NY times app. It is free for couple of months, and presents the paper very well. One more blow to newsprint demand.
Neil McCubbin
Foster, Quebec
Canada

****
Have a comment? Send your email to jthompson@taii.com. Unless you tell us otherwise, we will assume we can use your name if we publish your letter.
Remember, if you please, to let your suppliers know you read Nip Impressions!
---
 Related Articles:
---