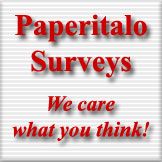 Last week we asked you about the changing seasons.
92% of the responses live in the Northern Hemisphere (so they are going into autumn)

You said, concerning the seasonal change occurring right now:

"Does not affect me" 50%
"Makes me happy and energetic" 33%
"Makes me despondent" 17%
We then asked if you had ever had a lost time accident, in what month did it occur

One said, yes, September (and they also lived in the northern hemisphere and said the seasonal change makes them despondent)
This week we are asking you if you are overworked. You can take the quiz here or click on "More" below.
Want to get a jump on the surveys? Follow me on twitter, where they are posted early. You can do this here. (note: all respondents are confidential; the software is programmed in such a way that neither we nor anyone else can determine who responded)
###
Want to be heard on other subjects? Be sure to watch for "Paperitalo Second Tuesday Surveys."