The moral of this story is morale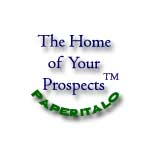 Dear Readers:
We received some hearfelt letters about morale, but none we could print. Check the "What do you think?" column for results of our quiz.
Jim
****
Dear Jim:
Just wanted to let you know that I have received the challenge coins I ordered and they look great! I've already given out a couple of them to key contributors and they were impressed with the detail. Agreat conversation piece and collector's item for the papermakers.
Neal Stephenson
Mill Manager
National Gypsum
Oxford, Alabama
---
Thanks for the plug, Neal. You can order the challenge coins at the Paperitalo Store.
Jim
****
Have a comment? Send your email to jthompson@taii.com. Unless you tell us otherwise, we will assume we can use your name if we publish your letter.
Remember, if you please, to let your suppliers know you read Nip Impressions!
---
 Related Articles:
---