Self Reliance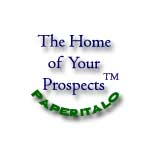 Hi Jim,

Thought you may find this interesting reading. Article claims burning biomass not as good as burning gas re CO2 emissions!!!

Bob Hurter
Ottawa, Ontario
Canada
---
You can find the article Bob is referring to here.
Jim
****
Have a comment? Send your email to jthompson@taii.com. Unless you tell us otherwise, we will assume we can use your name if we publish your letter.
Remember, if you please, to let your suppliers know you read Nip Impressions!
---
 Related Articles:
---