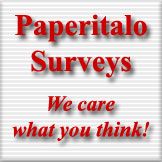 We are taking a break this week.
However, last week we asked you how much paper you have at home, A4, or 8 1/2 x 11. The answers were overwhelming!
You reported an average of 2,200 sheets. The highest reported number waa 15,000 and the lowest was 200. One person detailed they had 5,500 plain copy and 500 ruled notebook.
Want to get a jump on the surveys? Follow me on twitter, where they are posted early. You can do this here. (note: all respondents are confidential; the software is programmed in such a way that neither we nor anyone else can determine who responded)
###
Want to be heard on other subjects? Be sure to watch for "Paperitalo Second Tuesday Surveys."