[Adv.] Independent Consultants
Published: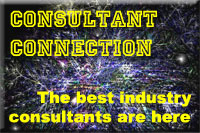 We want to use this space this week to hightlight the independent consultants that support us. This is a fine group of experienced professionals with a multitude of great experiences and expertise. Please click on the link above or "more" below to see what they can bring to your business. I have personally known each of them for some time and highly recommend them.
By the way, have you taken our Professional Consultant's Test? It is available here.

Jim
Riddles by Travis:
What iconic advertising character was created in 1916 by a Virginia boy who was paid $5 for his winning entry? You can find the answer by starting here.
Comment