Busywork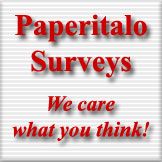 The current survey:

We are asking one open ended question about busywork this week.

You can go to the survey here or by clicking on "More" below.


(note: all respondents are confidential; the software is programmed in such a way that neither we nor anyone else can determine who responded)

We last asked about accounts payable and accounts receivable problems.

All respondents were from North America

When asked, "Answer from only a supplier perspective: Have you ever stopped selling to a customer because they had difficulty keeping track of your invoices and/or just had a policy of paying slower than 30 days?" 100% said "NO"

When asked, "Answer only from a purchaser perspective: Have you ever stopped dealing with a supplier because they harassed you for payment and/or misplaced your payments?", 67% said "YES"

Thank you for your participation.

###

Want to be heard on other subjects? Be sure to watch for "Paperitalo Second Tuesday Surveys."



More...
---
 Related Articles:
---