[Adv.] ASD Inc.
Published: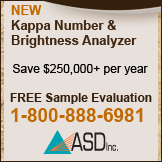 We received this press release from ASD recently:

"ASD's QualitySpec® K-B Reduces Time, Expense and Error in Critical Pulp-Processing Production Measurements

"A 1,000-ton-per-day mill could see savings of $350,000 in first year of use

"Boulder, CO (PRWEB) June 24, 2010 -- ASD Inc., a global leader in high-performance analytical instrumentation and materials measurement solutions, is closely watching the early adopters of the QualitySpec K-B, a near-infrared pulp analyzer designed to help mills obtain less-expensive, more accurate production line data.

"Pulp and paper industry profits and quality control rely on accurate monitoring and adjustment of Kappa number and brightness levels in pulp. These measurements guide the optimal balance of chemicals needed to produce market-ready pulp. Traditionally, measurements are taken with time-consuming manual processes -- usually titration and hand-sheet preparation -- with accuracy susceptible to operator-to-operator variability."


Call them today. And when you talk to ASD Inc., please tell them you saw their advertisements at Paperitalo Publications.

Regards,

Jim



Riddles by Travis:

What two numbers are exactly double the sum of their individual digits?

You can find the answer by starting here.




Comment