Comments on "Tech Changes Affecting Your Career Now, part 3 of 3"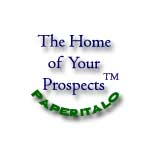 Dear Readers

You will want to check out the answers we received to our efficiency question in the "What do you think?" column.

Jim

***

Jim,

Thank you for mentioning the 2010 Forest Products Industry Technology Roadmap in last week's Nip Impressions and for providing the link for readers to download it. In Agenda 2020, we have selected a short list of seven objectives as our near-term priorities from the full list of technology objectives in the Roadmap, and are working to move R&D programs forward in these areas with federal financial support. Recognition of the Roadmap as you have done will help us in our quest for additional companies to join us in developing new technologies that can help the industry become more profitable and sustainable.

Ron Brown
Executive Director
Agenda 2020 Technology Alliance
Washington, DC
USA

###

Have a comment? Send your email to jthompson@taii.com. Unless you tell us otherwise, we will assume we can use your name if we publish your letter.




Remember, if you please, to let your suppliers know you read Nip Impressions!







---
 Related Articles:
---