Imperialism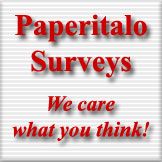 The current survey:

We are asking about signs of imperialism in the upper ranks in your facility this week.

You can go to the survey here or by clicking on "More" below.


(note: all respondents are confidential; the software is programmed in such a way that neither we nor anyone else can determine who responded)

We last asked about efficiency in your mill.

The paper and paperboard responses range from 1,020 to 2,424 tons of salable product per year per employee in the respondents' mills. The average was 1,561 and the mean was 1,401.

We had only one tissue response, which has 276 tons per year per employee.

Thank you for your participation.

###

Want to be heard on other subjects? Be sure to watch for "Paperitalo Second Tuesday Surveys."



More...
---
 Related Articles:
---