[Adv.] Edge
Published: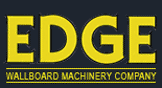 This week, we want to remind you of our fine friends at Edge Wallboard Machinery Company. In business since 1956, the words "Wallboard Machinery" in their name at first described all they did. Soon, however, their fine reputation caused papermakers in need of superior components value-priced to seek them out. The rest, as they say, is history.

Contact Edge to learn more about their ability to fill your needs for paper machine components. And when you talk to Edge, tell them you saw them on Nip Impressions.

Jim



Riddles by Travis:

Jim is on a training mission. During an exercise, he and 3 other comrades (Glen, Rush, and Mitt) are captured by a rival platoon. Their captor offers to let them go if they can pass a test, otherwise they all have to march back to camp with "I love Barack Obama T-shirts on." Here's the test: The captors arrange our fearsome foursome in a line, all facing the same direction, but with a barrier between the third and fourth person. Thus, person 1 can see, person 2 and person 3 and the barrier, person 2 can see person 3 and the barrier, person three can see the barrier, and person 4 can see nothing. After placing them in this position and blindfolding them, the captors tie red bandanas around the heads of persons 1 and 3 and blue bandanas around persons 2 and 4. Jim, Glen, Rush, and Mitt are told that 2 of them have red bandanas tied on their heads and 2 of them have blue bandanas tied on their heads, and the blindfolds are removed. With no communication allowed, if any of the men can correctly identify the color of the bandana on their head, they will all be released. If anyone makes an incorrect claim, they all suffer the punishment. Who should speak for the group?

You can find the answer by starting here.

Comment