Talking too much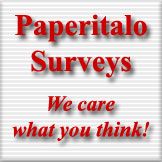 The current question:

"Talking to much?" Click "More" below to go to the survey.


(note: all respondents are confidential; the software is programmed in such a way that neither we nor anyone else can determine who responded)

The last question (open ended):

Tell us what you think of the new Nip Impressions format.

Responses:

My first impression is that it is much more efficient.

Love it!

Initial impressions are not great, but I'm sure I can adjust.

I like it. A quick browse of the home page and I can get to the articles, features I want. The advertisers on the margins are not intrusive like some other sites.

I like it. The old design reminded me of 1998. This looks very professional. Good job!

###

Want to be heard on other subjects? Be sure to watch for "Paperitalo Second Tuesday Surveys."



More...
---
 Related Articles:
---