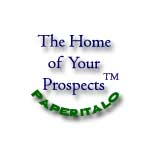 "A challenge"

Jim -

About 10 years ago I suggested to Vic Biladou that Ahlstrom-Kamyr should buy the (good) continuous digesters in the U.S. and install the latest control technology and operate the digesters from Atlanta. Not long after that Kamyr was out of business. I think petro chemical plants have incorporated long-distance optimization as a routine part of their operations.

David Ashcraft
Raleigh, North Carolina
USA

***

Good Job Jim - enjoyed it!

Tim Campbell
Sylva, North Carolina
USA

---

Tim:

I almost put you in the original article, for many people consider you the father of the mini-mill concept.

Jim

***

Jim

As always, your discussion on the configuration of mills in future was thoughtful.

One aspect I don't think you give enough weight to is the probable non-sustainability of the highly energy intensive US-style transportation system and the associated lifestyle. Although I completely agree the rest of the world is still following headlong the US lead in that respect, it occurs to me that many nations may not complete their conversion to roads, trucks, cars and sprawling suburbia before events and economics overtake them. So China and India for example may perforce remain much more dependant on dense urbanisation and rail than the US has become. (I note there are now several US authors who are attempting to popularise the inevitability of a reduction in universal road based transportation and the associated large suburban conurbations, whereas in the past there has been denial and silence)

Mills have a long investment life, so those being built today or in the near future will be exposed to economic shifts driven by energy shortages in 15, even 25 years' time. So such things ought to be considered in planning them. Apart from the transportation factors, the traditional integrated large-mill Kraft paper model has greater possibilities for total-product-cycle thermal and electrical efficiency than a mini-mill, and is likely the only model where biomass energy self sufficiency is possible. Mini-mills would presumably still be best for near 100% recycle products, but as road transport costs go up, the fibre recovery operations will quite likely make them less economic compared with virgin mills.

I'm not sure those factors will necessarily drive a return to the former way of manufacture, but they ought to give pause for thought and needless to say they may well lead to another, different model we haven't developed yet. But if so, then the centralised operation of many mini-mills reduces to centralised operation of one or a few larger integrated operations, and so the uber-controllers may well best be on the mill site. Which in turn makes one wonder why the corporate office should not also be centralised onto the operational site. That would produce the opposite outcome from your scenario, but it similarly accepts drastic change is inevitable.

Regards

John Reid
Kinleith
New Zealand

***

Interesting...

That same rail system of old was centrally controlled. Wooden cross-ties don't conduct electricity thus the 2 tracks served as 2 wires for communications. It was rather "slow motion" until trains entered the switchyard, then a lot of "stepping and fetching" went on - like parking a cruise ship in a harbor berth.

The power industry has for years centrally controlled electrical generation... "economic dispatch".

When I entered the pulp & paper industry over 25 years ago [I am a control systems engineer] we were already talking about salespersons taking orders at a major customer, they would call in [real phone] and use touchtones [no laptops] into a main-frame and then several machines across the country would automatically go into a grade change to replenish the already boxed tissue / towel / cut size / whatever / that suddenly was picked up by robot forklifts and put on an already waiting boxcar or a big rig trailer. Some of this has come true, but not nearly enough.

Larry Wells
Atlanta, Georgia
USA

###

Have a comment? Send your email to jthompson@taii.com. Unless you tell us otherwise, we will assume we can use your name if we publish your letter.




Remember, if you please, to let your suppliers know you read Nip Impressions!