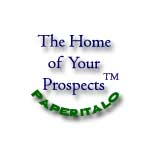 "A challenge"


A new high-water mark for Nip Impressions! Bravo!

(Was that nine words or only eight considering the hyphen?)

Jon Kerr
Loveland, Ohio
USA

***

Jim:

Here is one experience regarding how difficult it is to explain the pulp & paper industry to someone.

At my local Publix supermarket, I was doing the weekly shopping (yes, I take this burden from my wife). Every week I'm asked,"Paper or plastic?" Every week I say, "Why would I want a bag that is not renewable?" Every week the cashier (usually a teenage girl) looks at me with a blank stare, so I just say, "Give me paper, please." But, the other day when I was asked the same question and I gave the same answer the little girl said, "But sir, they are both renewable." That was too good to pass up, so I said, "Really, please explain." She went into a speech about greening the earth and how we recycle paper and plastic and how that makes everything great and good; the typical brainwashing without the real facts that our high schools are teaching! So, I asked her where paper comes from. She was spot on with her answer, "Trees, of course." And, we talked about how the paper industry replants more trees than it cuts and how that is truly renewable. She seemed to get it although she made the brainwashed comment about how "We're destroying our forests, etc." When I asked her what plastic was made of, though, she really DID NOT KNOW. I gave her a few hints but she didn't know and couldn't guess! So, I helped her understand that oil is the source of plastics and that oil wasn't renewable and explained the difference between recycled and renewable.

Anyway, this points to the need to try to overcome the liberal "green" teaching in the schools and brainwashing our kids to believe recycled is every bit as good as renewable and, in most cases, is exactly the same! And that plastic is as good or even better for toting our groceries home in.

Regards,

Michael D. Cruse
Greenville, South Carolina
USA

###

Have a comment? Send your email to jthompson@taii.com. Unless you tell us otherwise, we will assume we can use your name if we publish your letter.




Remember, if you please, to let your suppliers know you read Nip Impressions!