[Adv.] The Light Green Machine Conference and Workshop
Published: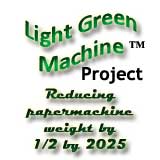 We keep adding to the information we will be sharing at the Light Green Machine(TM)Conference and Workshop. One of the latest editions is a concept we think will be very important to every C & I (also known as "away-from-home") tissue manufacturer in the world. If you are savvy, you may have already seen the concept we'll discuss, but you certainly have not seen the ramifications we will share.

We'll present ideas important to other grades of paper and paperboard, too, ideas you most likely have never consider. This is a day worth your time. We have set the costs low enough, that they should be a barrier for no one.

The Light Green Machine(TM) Conference and Workshop to be held May 1 at the Hyatt Regency here in Atlanta from 8 a.m. to 5p.m. This is going to be a jam-packed day loaded with ideas you have either not seen or perhaps not given much thought. We are sure some of them will be brand new to you. We have a world class group of speakers energized and ready to go. You will probably see more new ideas concerning paper machine construction and operation than you have seen in years. In fact, we are so sure you will be pleased with the value, we are offering a 100%, no questions asked guarantee: we will gladly and cheerfully refund your registration fee if you are unhappy for any reason.

Learn how one might:

-use carbon fiber rolls to their advantage
-reduce the weight of copper cabling used in paper machines by 50%
-use a brand new fastener system to make maintenance much easier

and, again, how the commercial tissue business will be revolutionized within just the next few years with a radical lightweight machine concept

and much, much more.

Click the logo above or "More" below for further details.

Hope to see you there.

Jim



Riddles by Travis:

On average you'll do it more on a hot day than a cold one, but less when you have a fever. In excess it could be a sign of diabetes or stroke. What is it?

You can find the answer by starting here.




Comment