[Adv.] The Light Green Machine Conference and Workshop
Published: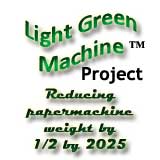 You have been reading about the Light Green Machine(TM) Conference and Workshop to be held May 1 at the Hyatt Regency here in Atlanta from 8 a.m. to 5p.m. This is going to be a jam-packed day loaded with ideas you have either not seen or perhaps not given much thought. We are sure some of them will be brand new to you. We have a world class group of speakers energized and ready to go. You will probably see more new ideas concerning paper machine construction and operation than you have seen in years. In fact, we are so sure you will be pleased with the value, we are offering a 100%, no questions asked guarantee: we will gladly and cheerfully refund your registration fee (which is only $75 if you register before April 17th) if you are unhappy for any reason.

Learn how one might:

use carbon fiber rolls to their advantage
reduce the weight of copper cabling used in paper machines by 50%
use a brand new fastener system to make maintenance much easier

and much, much more.

Click the logo above or "More" below for further details.

Hope to see you there.

Jim



Riddles by Travis:

Bi-vocational? Who mixes monarchy and marine biology?

You can find the answer by starting here.




Comment