[Adv.] AMEC
Published: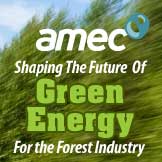 AMEC joins our list of fine advertisers this week. An old name with many worldwide projects in the pulp and paper industry, we are proud to have them supporting our efforts here. Please support them. Just click on "More" below to learn more about their capabilities

Jim






Riddles by Travis:

What are 80% male, 65% single, 85% without children, about 70% under the age of 30?

You can find the answer by starting here.




Comment